View Product Reviews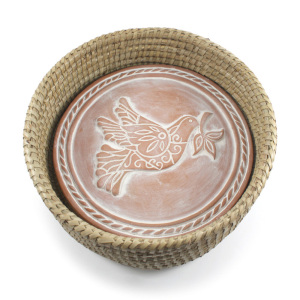 Very pleased
Dec 26, 2020 | Posted By Charlotte from Silver Spring, MD United States
The breadwarmer in a basket arrived in good shape and was very attractive. It was intended as a gift and after seeing it I felt that it was going to make a good one. Delivery was slower than I'd hoped, maybe this was normal or perhaps due to the delilvery slowdowns this Christmas, so allow a little extra time when you order.
Beautiful bun warmers
Dec 20, 2020 | Posted By Grete Zemans from Portland, BC United States
Both bun warmers are beautifully made and very modestly priced. It was hard to decide which of the numerous patterns to chose.
Xmas 2020
Dec 3, 2020 | Posted By cris mazzei from Sutter Creek, CA United States
I was delighted to see your products! Very well made basket, very thick tile stone and instructions for care & heating! The Dove of Peace is 3 dimensional art & lovely! Would recommend to anyone! Great gift!
Beautiful warmers
Nov 25, 2020 | Posted By Susan DeLand from LONG BEACH, CA United States
I bought three bread warmers and two mug warmers for gifts this holiday season. They are quite beautiful and arrived in good shape. I especially like the innovative shredded box packing material. The only issue is that everything has a noxious odor. I unwrapped all the pieces and sprayed them with a neutralizer and left them outside to air. Within 5-6 hours, the smell was gone. I would like to suggest that you put microwave instructions for heating the stone in the package, The only instructions call for heating an oven and putting the stones in for 10 minutes. This is not a very energy efficient way to heat the stones.I do love them, though!
Pleased
Dec 2, 2019 | Posted By Mary Glanton from Malakoff, TX United States
Bought this bread warmer as a gift. Pleased with my purchase. Sure she will love it. Only giving 4 stars because I will not get to test it.
Not yet used - purchased for gifts, but they look great
Sep 5, 2019 | Posted By Valerie Davies from Bellingham, WA United States
Can the clay piece be heated in a microwave? If so, for how long?
a Thanksgiving hostess gift
Sep 3, 2019 | Posted By J Essick from Sunnyvale, CA United States
We are going to my son and daughter inlaws for the first time this Thanksgiving. I bought this as a hostess gift for them. It is larger than it looks in the picture and not quite as deep. But it will still work very well for them
Beautiful
Feb 25, 2019 | Posted By Nancy Norton from Hot Springs, AR United States
I ordered 2 of these for Christmas - one for my daughter and one for my daughter-in-law. They were so beautiful, I ordered one for myself. They are a beautiful addition to the table as well as keeping the rolls warm.
Excellent gift
Dec 2, 2018 | Posted By Mary from La Mesa, CA United States
These warmers are unique and superb quality. I bought them as inexpensive gifts for friends and am very pleased
Great gift!
May 4, 2018 | Posted By Phyllis from San Diego, CA United States
The bread warmer/basket is both beautiful and highly functional. It's a nice size too. I purchase one as a gift and got another for myself but can already think of others who would enjoy these - and what a great price! Time to stockpile a few for future gift giving!
Beautiful basket and Clay warmer.
Dec 10, 2017 | Posted By Susan from Seattle, WA United States
The clay warmer heated in oven kept bread warm during whole meal and was an attractive addition to serving table. Love it.
Great gift!
Dec 21, 2016 | Posted By Sylvia from Missouri City, TX United States
Loved this so much I want to order one for myself!
customer
Dec 9, 2016 | Posted By Peggy Lacourrege from SLIDELL, LA United States
Beautiful! Will be giving as gifts.
bread basket
Nov 10, 2016 | Posted By Jennifer Johnson from WAKE FOREST, NC United States
this is the 3rd or 4th bread warmer basket I have gotten, kept 2 gave the rest as gifts, we love them!
Very nice
Oct 1, 2016 | Posted By Pamela J Irwin from El Paso, IL United States
I have had bread warmers in the past but never one that came with a basket. Very nice purchase for my daughter in law. She had a baby in May and her middle name is Olivia which means peace so I purchased the dove for peace. Very happy with purchase.