View Product Reviews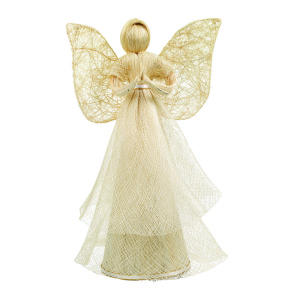 She's Perfect
Sep 6, 2023 | Posted By Deborah from Peyton , CO United States
Wanted something different for the top of our tree, and since my daughter in law is from the Philippines I thought I would buy this beautiful Angel from there. Love how she is made and is just perfect. Can't wait to surprise her this Christmas. So glad I found this site, my order came fast & was packed perfectly. I was so afraid it would come via USPS, and it didn't. Thanks!
Tree top angel
Jan 23, 2022 | Posted By Sharon from Colorado Springs , CO United States
This angel is lovely. It is rather large but it is light weight so won't weigh down the top of our tree. A keeper!
WI Judy
Feb 3, 2021 | Posted By Judith Lyons from Middleton, WI United States
The tree topper angel is beautiful tho taller than I anticipated. The little mittens & socks on a string are very sweet.
Angel Tree Topper
Dec 19, 2020 | Posted By Leia Parker from Clemson, SC United States
Beautiful!! It is so intricate and detailed, I love it! The value is incredible. For less than one of those ugly, cheap plastic tree toppers at the big box stores, you can have a handmade Fair Trade tree topper that looks amazing!
Lovely Tree Topper
Nov 28, 2020 | Posted By Sandy O'Neill from Madbury, NH United States
I can't wait to place this angel at the top of my tree. She is a little taller than I anticipated so if my ceiling doesn't accommodate her height, I'll use her as a centerpiece.
beautiful praying angel
Dec 21, 2016 | Posted By Mary from Selby, SD United States
I first bought this angel for myself several years ago and since then have bought many others to give as gifts. It is a very beautiful and simple depiction of an angel in prayer. One friend sent me a photo within a half hour of receiving this angel, showing it on top of her Christmas tree and saying I was such a good, dear friend who had remembered how much she liked mine.