View Product Reviews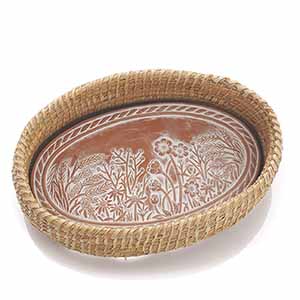 Lovely gift item
Sep 12, 2023 | Posted By Karen Hartfield from Englewood, FL United States
I sent this as a birthday gift to my daughter, who recently began exploring the world of sourdough bread. She called to say she was really delighted with the beautiful artistry and detail of it. She and her spouse were very excited to have this piece to use both as a bread warmer, and in a place of prominence as a piece of art when not in use! They were also both very happy to learn about Serrv, as they, as well, appreciate the tangible mission that Serrv follows.
Breadwarmer
Aug 21, 2022 | Posted By Pat from Marion, OH United States
Bought this breadwarmer with a lovely basket as a gift. It is perfect and was so appreciated. I enjoy shopping with SERRV as the products I've purchased have all been as expected or better. And I like buying from a company which is helping people's lives
Great breadwarmer.
Jul 20, 2022 | Posted By Demie Jo Collins from Lakeland, FL United States
The breadwinner is very nice. Keeps bread and rolls warm for a good length if time.
My Buns are warm!
May 5, 2022 | Posted By Kandler, Kim from Kaukauna, WI United States
So easy to use and clean. Keeps the buns, bread, rolls wonderfully warm. A must have!
Breadwarmers
Apr 12, 2022 | Posted By Pat Bell from Copley, OH United States
We love your breadwarmers. They are a very popular product.
Bread basket and warmer
Apr 1, 2022 | Posted By sherrill blazer from cary, NC United States
I love the design of the bread warmer and the basket. Just the size that I was looking for with so many choices available for both items.
attractive, well made, works like a charm
Apr 8, 2021 | Posted By Jo from Edmonds, WA United States
I was skeptical that the bread warmer would stay warm for long, but cleaning up after dinner when we first used it, I placed my hand on the warmer and was intrigued that it was still warm, yet it never seemed hot enough to burn. How cool is that? :) The spring flower design is beautiful.
So lovely!
Dec 20, 2020 | Posted By Carrie Cruz from Williston , VT United States
I adore this!!!! So different snd beautiful!! Can't wait to use it for the holidays
Beautiful and Well Made
Nov 30, 2020 | Posted By Lil Clinard from Loudon, TN United States
The Spring Meadow Bread warmer is lovely. I bought it as a gift so I haven't tried it to see how long it stays warm, but due to it's heft I think it will be good. My only concern was the odor from the grass basket. When it arrived it was a little overwhelming. I sprayed it with Febreze and let it air out a few days. Now it is fine.
Unique, Beautiful and Functional
Jul 21, 2020 | Posted By Felice Willat from Santa Barbara, CA United States
I love this product and haven't seen anything like it before. It's well made, beautiful, made of natural materials and will do something that's missing from ordinary bread baskets. I hope you continue to offer these; I want to buy more for holiday gifts.
Pretty
Jul 17, 2020 | Posted By Vivian Cirillo from Wallkill, NY United States
I bought it as a gift for a friend who loves to bakes bread. I think that it's pretty and useful but I don't actually know if it works.
Best Bread Warmer Ever
Apr 1, 2019 | Posted By Carol Carroll from Hawley, PA United States
Just love this bread warmer and its basket. Everyone asks where I got it so I'm hoping you will get a lot of orders.
bread warming basket
Mar 28, 2019 | Posted By Carolyn Coleman from Guilford, CT United States
I was happily surprised by the size and quality of the bread basket. It looked very nice in the catalog but even better when I got it. Very pleased.
LOVELY
Mar 27, 2019 | Posted By Mary S. Hardee from Jacksonvile, FL United States
I purchased the bread tray and napkins for my sister's Easter gift--I'm sure she will be delighted as I am. The workmanship is beautiful.
Love this bread warmer!
Mar 26, 2019 | Posted By Linda Morris from TOWANDA, KS United States
I received one of these for a Christmas gift, and I am enjoying using it. It keeps muffins and bread warm throughout a long meal and is attractive on the table. We like ours so much that I ordered one for my sister for her birthday.
Bread warmer basket
Mar 6, 2019 | Posted By Sharon 1litizzette from Weed, ME United States
This product lived up to and exceeded my expectations. It's lovely and will get a lot of use.
Happy Mom
Dec 5, 2018 | Posted By Lori Von Seggern from Plainwell, MI United States
I bought these bread warmer baskets for myself and 3 grown daughters! I have been searching for something like this for a very long time. The baskets are very well made and the tiles are among the most beautiful I've seen. They worked very well and kept my dinner rolls at just the right temperature. Thank you for bringing such a beautiful product to our tables!
Just what I ordered
Nov 2, 2018 | Posted By Nancy B from Chevy Chase, MD United States
The best purchasing from a catalog is when you get what you thought you were getting, and that's just what this is. It seems well-made and is attractive, although not formal. I didn't look carefully at the size information, and it's bigger than I had expected, but I have no complaints. Delivery was prompt.
Always very pleased
Oct 16, 2018 | Posted By LInda Carberry from Marshall, MN United States
I purchased the bread warmer for a good friend of mine, as a Christmas gift. I love the pattern and basket, but was surprised at the weight, as I'm having to send it. I receive your catalog and enjoy looking through it, though am not a frequent buyer. I'm happy the my purchases help others in their livelihood.
Wonderful BREADWARMER
Sep 3, 2018 | Posted By Anne Bliss from BOULDER, CO United States
I ordered and received two breadwarmers; the baskets and ceramic warmer are lovely and very functional. I can also use them to keep small casseroles and plates warm, and they would also make excellent and welcome gifts. Thank you for your artisanship and care in producing such a lovely and useful result...I really like everything about my breadwarmers...the floral oblong and the round traditional one are both wonderful.
Beautiful
Jul 15, 2018 | Posted By sharon from pinetop, AZ United States
Very Beautiful and well made. Love this bread basket
Beautiful Basket Warmer
Mar 25, 2018 | Posted By Joanne from Evans, GA United States
Thrilled with the workmanship of the basket. Giving it as a gift and can't wait to see if the biscuits keep warm. Thanks for sharing your talent.
Spring Meadow Bread Warmer
Jan 22, 2018 | Posted By Jo from TN United States
Beautifully made. Customers have asked for re-orders!
Bread basket with warmer
May 21, 2017 | Posted By Melanie from Spokane, WA United States
I bought this for my mom, she likes to serve warm bread at meals. IT IS A PERFECT SIZE FOR HER.
Bread warmer
Mar 30, 2017 | Posted By Cheryl from Plainville, CT United States
Sent this as a gift. They adored it! Buying one for myself now!! Lovely!
great idea
Dec 29, 2016 | Posted By Susan from Great Neck, NY United States
Was at my cousins' home and they had this. I had to have it. Keeps the bread warm and looks great
Wonderful
Dec 9, 2016 | Posted By Susan from Canyon Country, CA United States
I gave the warmer and basket to my friend and she was thrilled. She asked me for contact info so she could order them for Christmas presents!
customer
Dec 9, 2016 | Posted By Peggy Lacourrege from SLIDELL, LA United States
Beautiful! will be giving as gift. Might have to get one for myself!!
Beautifully made
Oct 29, 2016 | Posted By Christina from Fremont, CA United States
Gifting this to my daughter-in-law. Will fit their table perfectly.
Nice basket.
Oct 28, 2016 | Posted By Deborah Reed from Jacksonville , VT United States
The inner stone was broken in two so they replaced it immediately.
gift
Sep 16, 2016 | Posted By Jenny from Kiester, MN United States
I received this bread warmer and basket for a bridal shower gift. I absolutely love it! I will buy another one for myself and I would give this basket and warmer as a gift in the future. Both the basket and plate are beautifully made and both items are sturdy and high quality. Packaging was nice.