View Product Reviews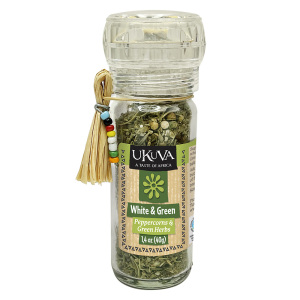 very good
Jul 27, 2022 | Posted By Susan Parkin from Ocala, FL United States
love
Feb 21, 2022 | Posted By Linda Bates from Brookings, SD United States
I love this spice mix. I use it all the time.
A customer favorite
Jan 30, 2022 | Posted By Margo Vanderhill from Alton, IA United States
The mild, yet flavorful herbs in this mixture are appreciated by our repeat customers for this product.
I love everything about this product
Jan 17, 2022 | Posted By Kelli Rippee from Everett, WA United States
I'm so grateful to have found this spice. I'd love to see it in local grocery stores, It is amazing. All of my extremely picky eaters love it. All of the allergic or sensitive family members are allowed to have it. Fresh is incredible and I love the lid.
Great spices!
Dec 21, 2021 | Posted By Maryjane Fridman from Bloomsburg, PA United States
I add this to so many dishes! Good to keep in stock!
Wonderful!
May 22, 2021 | Posted By Teri Whitaker from Union City , CA United States
I use this tasty herb mix on a lot of things! Just what I've been looking for.
Spices
Jan 15, 2021 | Posted By James Sivak from Ashland, MA United States
I love these spice combinations. This Garden Herb is great on salmon!
A wonderful and useful mix
Dec 17, 2020 | Posted By Rhonda from Boone, IA United States
This is a great mix to use in just about everything. Highly recommended!
So savory
Sep 19, 2020 | Posted By Barbara from Brooklyn, NY United States
This is exactly the dried spice mix I wanted but couldn't find anywhere else! I've put it in salads, on pasta and fish and it adds to the flavor, not overwhelms it. It's savory with just a bit of heat. I love it.
Spice review - Cape Garden
Jul 3, 2020 | Posted By Renee Alexander from Washington, DC United States
Good morning, I purchased my first bottle of Moroccan Harissa at the Smithsonian Museum of African Art in D.C and absolutely loved this spice. We have been under quarantine for several months and managed to use the entire bottle of the Harissa, it has become the spice of choice for many of our dishes. We have sampled all of the new spices on fresh tomatoes from the Farmers Market, fresh mozzarella, rice, pasta, vegetables and salads, and they have become our way of escaping the confines of our DC kitchen to travel to a new destination, even though it is only through food, it has brought my family to the table and we have enjoyed the culinary journey. I am particularly fond of the Khoisan Seaweed Salt Blend and the Zanzibar Island Spice. I also love Cape Garden!! I also purchased a couple of bottles to give as gifts to my friends who are starving for new culinary delights. All the best,
Garden Herbs
May 12, 2020 | Posted By Linda from Tamarac, FL United States
I love this combination of herbs and now give them as gifts.
Cape Garden Herbs are our favorite!!
Apr 30, 2020 | Posted By Kimberly Beck from Scottsdale, AZ United States
I absolutely LOVE this herb! I ordered extras for my daughter, assistant and two for me so I don't run out! I use it on sweet potatoes, butternut squash, zucchini, bread with butter, lemon chicken, salads - SO many options!
Quick and easy
Jan 3, 2020 | Posted By Beth van Haaren from Tipp City, OH United States
I have had these spice blends in my kitchen for awhile. My "new to cooking" sons both swear by them - easy way to spice up their standard "chicken and rice" or "rice and chicken" college cooking!
Tasty spice mixture from South Africa
Oct 14, 2019 | Posted By M. from Sandy Springs, GA United States
My friend loved this spice mixture from South Africa.
Excellent Herb Combo
Jul 13, 2019 | Posted By KATY ISCHIA from CUPERTINO, CA United States
The herbs in this grinder really make a nice difference ! I've ground them over eggs, garlic toast, salads, sauces, rice, veggies, grilled cheese, meats, pasta .....no limit to the perks. They also make wonderful gifts for anybody who cooks (or eats)!
Perfect Blend
Jul 11, 2019 | Posted By Martha Idecker Boward from Moon Township, PA United States
This is just a great blend of spices , with easy to use grinder. It is great rubbed into a roast, sprinkled onto vegetables, mixed into mashed potatoes. It is not a "hot" spicy mix, which is great for me .
Cape Garden Herbs
Jun 25, 2019 | Posted By Jo Brummitt from Nashville, TN United States
We carry several of these spices close to the check out desk. They are fabulous grab and go gifts.
Versatile and Flavorful Spice
Jun 6, 2019 | Posted By Patricia from Phoenix, AZ United States
This was a repeat purchase. Need I say more? :)
Cape Garden herbs
Jan 29, 2019 | Posted By Rick Murphy from Fort Smith, AR United States
We love this spice and use it on our salad every night, and have turned our kids onto it.
Great Blend!
Feb 18, 2018 | Posted By Susan from Ponte Vedra Beach, FL United States
While on vacation, we stopped in a small shop and found this lovely spice. I fell in love with it. I use it for almost everything. Also, bought extra bottles for my friends. Thank you and God bless you for this fine effort.
A great salt alternative
Jan 22, 2018 | Posted By Joan from Huntley, IL United States
As a nurse, I know how important it is to cut down on salt yet we wanted added flavors in out meals. Cape Garden Herbs with only half the salt has spices that add other satisfying spices. We discovered Cape Garden Herbs two years ago and liked it so well we keep it on our table for tasty additions to potatoes, vegetables and our entrees. Guests who have tried it like it so well we're now ordering a bottle or two for them when we send in our order! Service has been efficient with prompt delivery and knowing we're helping Serrv with a fair trade product provides a good feel as well as good taste! .
Great Mix of Herbs
Sep 6, 2017 | Posted By Patricia from Phoenix, AZ United States
This is one of several herb/spice blends that I've purchased, and they have all been wonderful. This is no exception. I can see using it in many, many dishes!
Garden Herbs Spice
Mar 14, 2017 | Posted By Melanie from Evans City, PA United States
I love it. I use it on everything.
Add awesome flavor
Oct 9, 2016 | Posted By Jeanne from Oakwood, GA United States
This is a great mixture of herbs that really enhances savory dishes.