View Product Reviews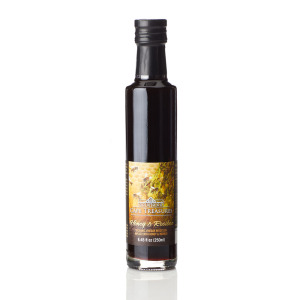 Best vinaigrette ever!
Jul 20, 2023 | Posted By Kathy Partridge from Longmont, CO United States
Absolutely our favorite for a quick and delicious salad dressing.
The Perfect Solution
Jul 2, 2023 | Posted By Faith Simmons from Tampa, FL United States
I ordered this once out of curiosity, then out of satisfaction and now out of love. This product makes any pasta taste homemade, any salad a masterpiece, especially one with green beans or asparagus, and can be used post cooking, like a dressing with virgin olive oil, during cooking to enhance the flavor of chicken and pork and with uncooked items as a dressing the best.
My new go-to favorite!
Jan 22, 2023 | Posted By W Clarke from Marietta, OH United States
This is my new favorite basalmic reduction! I put a little of this and some olive oil on a salad, really delicious! I am trying to find a reason to use it every day.
The best one yet of all the vinegar selections
Dec 24, 2022 | Posted By Dorothy Brown from Trumansburg, NY United States
Excellent on salad and over a vegetable stir fry
Perfect Compliment!
Nov 22, 2022 | Posted By Naomi Seedberg from LIVONIA, MI United States
This was the other gift for my son and his girlfriend's kitchen. You must have a good balsamic vinegar in your pantry. I know they will love it!
For gifts
Sep 16, 2022 | Posted By Evelyn DeLutis from Bridgewater, MA United States
I ordered two bottles to give as gifts. They arrived very quickly and safely. I have not given them yet but expect that they will be delighted receivers. I plan to give them with some quality dipping bread.
Delicious
May 25, 2021 | Posted By Marie Garescher from Peekskill , NY United States
I love the touch of sweetness in this vinegar. Works well with avocado and any other salad. As usual shipment was quick and well packed.
Delicious!
Feb 22, 2021 | Posted By Theresa from Seattle, WA United States
I've been using it on cucumber salad (just three ingredients - cucumbers, tomatoes, and this balsamic vinegar) and it is delicious. The rooibos and honey reduce the acidity of the vinegar and add some sweetness, resulting in a perfect blend of flavors.
Fresh & Tangy
Jul 9, 2020 | Posted By Barbara from Brooklyn, NY United States
This balsamic vinegar reduction is great on sandwiches and grilled meat and veggies. With a sandwich, use a cibatta, sourdough roll, or hero. The taste is tangy sour with a slightly sweet aftertaste. I love it.
Great product, Great company
Jun 4, 2018 | Posted By Amy from SHERMAN, IL United States
A friend gifted me this Rooibos & Honey Balsamic Vinegar Reduction when she brought a meal to us after a family members surgery. It is wonderful! I used it on so much but especially making caprese salads! So easy and flavorful! I bought 3! Will make a great gift!
Balsamic Rooibos & Honey Vinegar Reduction
Mar 10, 2017 | Posted By Carol from Ogden, UT United States
I received this balsamic reduction as a gift from a friend and immediately knew that it would be a staple in my kitchen. Combined with just olive oil (a good EVOO), or a flavored EVOO ( such as blood orange oil), it makes an easy and exceptional vinaigrette. Good stuff! I highly recommend.
delicious!
Aug 26, 2016 | Posted By Megan from Murrysville, PA United States
Our family loves this vinegar. Great on salads or fruit