View Product Reviews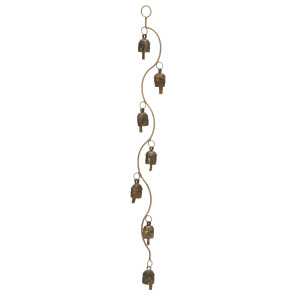 Beautiful!
Jun 1, 2022 | Posted By Cathy from Bellingham, WA United States
I love how this wind chime looks! I'm waiting for a good windy day so I can hear it!
Delighted with my new wind chimes
May 12, 2019 | Posted By Marilyn Wills from Los Osos, CA United States
Wonderfully pitched, tingly bells. Seems well-crafted. Definitely attractive hanging in our coastal garden. Loved how they were shipped in shredded cardboard filler, not excesses of plastic! Will definitely do more shopping with Serrv.
The bells have a pleasing sound
Mar 7, 2019 | Posted By patricia A like from Livingston, TX United States
This wind chime is not obtrusive, the sound is charming, & the bells ring with the slightest movement. It is very attractive.
lovely sound
Aug 5, 2018 | Posted By Joan from Southbury, CT United States
Gentle, lovely sound in an attractive package.
Love this item!
May 30, 2018 | Posted By Darlene from Manassas, VA United States
I own a Fair Trade store in Manassas, VA--Scatter Seeds. Our customers love this and so do I! The design is not entirely traditional or modern--very much eclectic and fits any style. The sound is very nice--not "tinny" and adds just a sprinkle of chimes to the air. Very nice purchase!!
Customer favorite
Mar 19, 2018 | Posted By James from Richardton, ND United States
This is my best-selling chime of several I have stocked in my store. Lively bell tones and lovely flowing design.
Wavy wind chime is way cool
Jan 10, 2018 | Posted By mary from Bradford, MA United States
This is such a cool piece to add to my collection of SERRV wind chimes. It fits in a really narrow little spot that was lonely before, & it sounds delightful. Great quality craftsmanship. Love it.
Wavy chime
Dec 17, 2017 | Posted By Theresa from EAST BRUNSWICK, NJ United States
Much nicer than expected! Pleasant sound.
Well made lovely wind chimes.
Oct 28, 2016 | Posted By Deborah Reed from Jacksonville , VT United States
Wanted something small but attractive to improve my studies fengshui and this is it. Not overly big ..nice delicate movement and tone.