View Product Reviews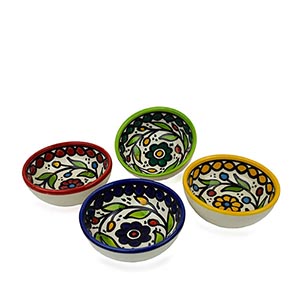 Delightful bowls
Aug 22, 2023 | Posted By Lori Henry from SAN LEANDRO, CA United States
Love using these brightly colored dipping bowls. My only quandary is which color to use today.
Delightful!
Mar 24, 2023 | Posted By Lori Henry from SAN LEANDRO, CA United States
I am so happy with these dipping bowls. They are the perfect size & depth plus the beautiful, bright, colorful designs are a delightful addition to any table.
Dippity Do
May 18, 2022 | Posted By Frederick Bindel from Snohomish, WA United States
My 2nd set. They're beautiful, durable, and just the right size. Great gift. My granddaughter uses hers as a desk accessory, holding paper clips
Love my dipping bowls
Jan 3, 2022 | Posted By Ann Kleinsasser from Glendale, CA United States
I have seen these bowls in your catalogue many times and always think of getting them for myself. When my husband told me he didn't know what to get me for Christmas I asked for these dipping bowls and the Medium Yellow West Bank bowl (he got me two!) I am so happy with my "gift" and have found so many uses for them already!
Beautiful bowls
Jan 2, 2022 | Posted By Amy from Cincinnati, OH United States
These are very nice-perfect as dipping bowls which is what I ordered them for.
Perfect dipping bowls
Dec 27, 2021 | Posted By Lisa Larsen from Durham, CT United States
These bowls are the perfect size and the mixed colors are really attractive. Excellent quality and fast shipping from SERRV.
Love these so much!
Nov 27, 2021 | Posted By Sherine Tully from Seattle, WA United States
I couldn't help but smile the first time I opened up the box with these little bowls. They are colorful and the perfect dipping-bowl size. For an exquisite gift, I pair them with bottles of West Bank, flavored, olive oil which I also buy from Serrv. They are both of the highest quality.
Wish I could get a set of all red
Sep 18, 2021 | Posted By NANCY GRABINSKI YOUNG from University Place, WA United States
Love these little dipping dishes. Use them to hold odds and ends. I love the red and wish I could get a set of 4 red only.
West Bank dipping bowls
Nov 27, 2020 | Posted By Karen Getman from Spokane, WA United States
Pretty colors, perfect size, a nice accompaniment to the snack plates.
Colorful
Sep 11, 2019 | Posted By Marilyn Austin from Novato , CA United States
The dipping bowls I ordered are colorful and just the right size for olive oil. They will make a lovely gift with the Basil infused olive oil.
Beautiful Bowls
Jan 13, 2019 | Posted By Eleanor Darron from Ramona, CA United States
The dipping bowls are as lovely as all other West Bank items. Please keep them in the catalog.
Charming bowls
Jul 23, 2018 | Posted By Karen from Concord, CA United States
Very bright, colorful, rustic painting, and marked with place of origin on the bottoms. Great size for holding dipping oils or garnishes for a community table or small buffet.. They also come packaged in a nice box, easily wrapped for gifting.
cheerful bowls
Jul 19, 2018 | Posted By Renate from Ringwood, NJ United States
I love the little dipping bowls, great colors and designs, and the right size for those little things that need a bowl!
Cute bowls!
Jul 17, 2018 | Posted By Cynthia from Phoenix, AZ United States
I got this set along with the oil carafe to give to a friend as a housewarming gift. She loved it. They are very cute little dipping bowls, colorful and cheerful. They appear to be very durable (they traveled in my suitcase all the way across the country in their original box), so I think she will enjoy them for many years.
Always Great
Apr 22, 2018 | Posted By Janice from Juneau, AK United States
The serving/dipping bowls colors were bright and cheery and fun for favorite oils and vinegars. I'm always impressed with the quality of workmanship (workwoman) of the products and also the quick and friendly service of SERRV.
Lovely bowls
Dec 13, 2017 | Posted By Risa from Santa Cruz, CA United States
Perfect for olives or small condiments. Brighten the table while brightening the lives of the people crafting these beautiful small bowls.
Four small bowls
Nov 20, 2017 | Posted By Gail from Ridgefield, WA United States
I like supporting the West Bank, for starters. And the bowls are sweet and colorful; make nice dishes for ingredients when I am cooking; or they make perfect gifts for someone who likes small treasures or additions to their kitchen. There are lots of uses for them, I am sure. Mostly, I like the uniformity and diversity at the same time, of these little bowls. People who have received them from me have been delighted.
Dipping Bowls
Nov 16, 2016 | Posted By Barbara Harger-Boling from Seattle, WA United States
Beautifully-colored, handmade bowls. Two of the four arrived broken - customer service contacted and they will replace by sending two more bowls without charge.
Charming!
Apr 13, 2016 | Posted By Mary from Ekalaka, MT United States
These are lovely little bowls, with many uses. I have bought them as gifts and for myself, and probably will again. (If you plan to buy them for Christmas presents, don't wait 'til holiday season--they will probably be out of stock by then!) Only one caution: They are on the fragile side, and chip easily, so they require a bit of extra care when washing and drying.