View Product Reviews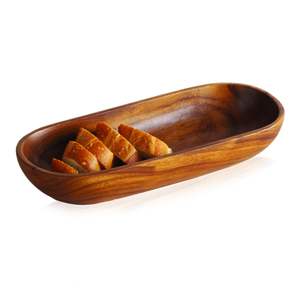 Acacia oblong bowl
Nov 26, 2022 | Posted By Liz Wagner from Naples, FL United States
Very nice piece! Can't wait for our next gathering to use it!
Acacia Wood Oval Tray
May 8, 2021 | Posted By Judith Kurz from Plano, TX United States
Always wanted a wood tray for bread on my table. This is perfect and will be using for mothers day weekend. Made very nicely too.
Lovely And Useful
Mar 24, 2021 | Posted By Regan Roos from Asheville , NC United States
I bought this for serving French Barnard bread. It's just the right size. The wood is light weight and attractive and it's nicely finished. Hopefully someone will make a longer version for loaves of French bread and Italian bread. I'd be glad to have that as well.
Beautiful bowl
Mar 17, 2021 | Posted By Osmara Sosa from Asheville, NC United States
I was thrilled with my purchase of these beautiful wooden bowls. I will be using them for years to come.
Wooden Tray
Dec 18, 2020 | Posted By Gloria Maras from Hibbing, MN United States
Beautiful bowl - like tray. I want to use ot as a table center piece with dried flowers. It's perfect, and a wonderful size.
Practical and beautiful.
Dec 16, 2019 | Posted By Bev Trytten from Taylors, SC United States
This acacia bowl was such a practical and beautiful shape I ordered extra to give as gifts.
Beautiful Wood!
Oct 12, 2019 | Posted By Carol Larroque from Cedar Crest, NM United States
This bowl is beautiful and practical. I use it to serve crusty bread. I have used one for years and now have purchased one for a gift.
Great value!
Feb 8, 2018 | Posted By Julio from St. Louis, MO United States
We've carried this beautifully crafted oval bowl for a couple of years. It's an amazing value and our customers' favorite choice for wedding/house-warming gifts
acacia bowl
Nov 12, 2017 | Posted By Mary from Atlanta, GA United States
the bowl is gorgeous. excellent craftsmanship . I would buy from SERRV again
Can't keep them in stock!
Aug 15, 2017 | Posted By Julio from St. Louis, MO United States
I own Zee Bee Market, a fair trade store in St. Louis, and our customers LOVE these oval trays. They are beautifully made and are the perfect wedding gift!
Oval wood tray
Nov 19, 2016 | Posted By Shelagh Mayo from Congers, NY United States
beautifully made and finished. A useful size