View Product Reviews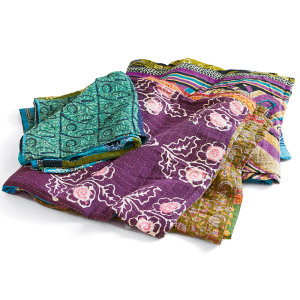 Kantha
Jun 22, 2022 | Posted By Melanie Yoder from Hampton, CT United States
This is our 2nd Kantha throw. The 1st has gotten lots of use. The light weight is nice for cool New England weather and the throws have so much character.
Colorful
May 28, 2022 | Posted By Cathy Badal from Reading , PA United States
I love these throws! Great colors and patterns!!
Just right
May 28, 2021 | Posted By Wendy Nice from Goshen, IN United States
Beautiful! Lightweight and just right for a summer throw. Lovely colors- teal, blues, greens, purple.
Kantha throw
May 18, 2021 | Posted By Cathy Badal from Reading , PA United States
I ordered 2 and both were lovely, fully reversible with vibrant patterns on both sides!
Beautiful throw
Nov 8, 2019 | Posted By Katherine Larsen from Lahaina, HI United States
The fabrics are gorgeous and the color combinations are attractive.
Lovely
Aug 1, 2019 | Posted By Lisa from Kidron, OH United States
Absolutely lovely! Each one is a unique & delightful combination of colors - a feast for the eyes. Incredibly soft & lightweight for 3 season usage.
Not As Described
Jun 4, 2019 | Posted By Sharon Fried from Baltimore, MD United States
This is the first review I've ever written for a SERRV product--and I've been a satisfied customer for 30 years. In reading previous comments regarding the colors not being primarily blues and greens, then followed up by SERRV comments stating that there is variation in color (which is expected) and how they would ask again for the artisans to use primarily blue and green fabrics/colors/patterns, I expected this discrepancy to be resolved. My BLUE GREEN Kantha Throw is more a multicolor throw with limited blue on one side (and almost no green) and all yellow and orange on the reverse. If these are not going to be blue and green, then I suggest changing the name to reflect he true nature of the product. This would be very helpful when buying something specifically for the color.
Thank you for letting us know this is still happening. We are going to look again at our inventory and update how we describe this item. We apologize.
Beautiful!
Mar 18, 2018 | Posted By Cheryl from Buena Vista, CO United States
We have gotten several of these throws. Great as beach blankets, picnic blankets, and a great pop of color on the couch! LOVE them!
Beautiful blanket!
Jan 31, 2018 | Posted By Danica from Nassau, NY United States
This blanket is just gorgeous and is nice and soft. It also arrived faster then expected and when I had an issue with my credit card, the customer service folks couldn't have been nicer or more helpful. This was my first time shopping with Serrv, and definitely will again!
Disappointed
Dec 24, 2017 | Posted By Susie from Tipp City, OH United States
As stated by another reviewer, the throw is not as described. When I saw the throw online I was thrilled with the beautiful vibrant hues of blue, green and purple. When my order was placed, I specified in the comments I wanted blues, greens and purples with minimal golds/yellows. What is received is one in primarily golds/yellows with the desired colors being very muted. While the work on the throw is very well done, unfortunately, I cannot use it. I really wish someone had contacted me after noting my specific request, to let me know it could not be accommodated and the order could have been cancelled.
We are sorry to hear that you are disappointed. This is one of our best-selling items. Each one does vary - which makes them one-of-a-kind, and we are not able to accommodate specific color requests per order at this time. We will emphasize again to our artisan partners that the blue-green hues need to be primary.
Not as described
Dec 11, 2017 | Posted By Helen from Perry, MI United States
The Kantha throw was described as 56" in squares of blues and greens with accent embroidery. The small catalog photo of the folded throw shows it as clearly blues in hue. The throw which I received was primarily yellows and orange. While there were 4 of 16 squares of blue, the overall appearance was certainly not blues and greens. As it was intended as a gift and had been selected specifically for the colors, I chose to return the throw. I have purchased from Serrv for decades and never been disappointed in a product. The workmanship was excellent and typical of all Serrv products I have purchased before. I was sorry to need to return this one exception. For quality the product rates high, but the colors are not as described.
We're sorry to hear this didn't work out for you. It should have a majority of blues and greens, but every one varies and it sounds like this one varied too much.
Fabulous
Nov 20, 2017 | Posted By Marilyn from Madison, WI United States
First I bought the Kantha quilt to use as my summer bedspread. It is gorgeous and just the right weight. Then I bought this Kantha throw to use in the living room in the winter. Again it has beautiful soft fabrics and is perfect to cuddle up in while reading a book and sipping tea.
Love it!
Aug 17, 2017 | Posted By Lala from Columbia, MO United States
I just received my throw today, and I couldn't be more pleased with this purchase. It is beautiful! I really lucked out with the fabrics/colors as every one is lovely. It is mostly a mix of blues, purples, and greens. It appears to be 2 layers, and there is a tastefully done patch.
Office Administrator
Dec 15, 2016 | Posted By Ruth from Cedar Rapids, IA United States
The color description was deceptive. Although it had some blue and green the overall color on the one side was gold/yellow. My ordinary customer did not like the color at all. Fortunately it suited another customer and I sold it the same day it arrived.
We are sorry that this one didn't include blue and green patches. Every one is unique but those colors should have been part of the throw. Glad it sold for you though!