View Product Reviews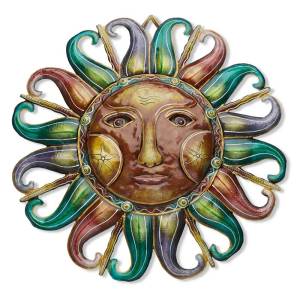 Smiley Soley Wall Art
Jun 15, 2023 | Posted By Sharon Brauer from Lisle, IL United States
I bought two of these smiley suns to put on my fence. They welcome us each morning with a great colorful smile. These are well made, sturdy weight. Great colors that blend with my bushes and flowers. A great find!
Balcony Star!
Oct 5, 2022 | Posted By Sharon English from Rancho Mission Viejo, CA United States
Well made, colorful, light weight, love it!
Beautiful!
Oct 11, 2021 | Posted By Jane from Ripon, WI United States
We purchased several of the recycled metal wall hangings to group on a new fence in our backyard. They are beautifully made, and make us smile whenever we are in the yard or relaxing in our sunroom!
Love it!
Apr 18, 2021 | Posted By Sharon from Philadelphia, PA United States
This was a great Easter present for my husband. We had many different sun sculptures on a retaining wall in the backyard of our previous home. Now we live in a Philly rowhome with a small yard. Hung on the fence, this sculpture lights up our whole yard. Since our gardening is now in containers, we look for pots that pick up the colors in the sun..
Soley Wall Art
Dec 22, 2020 | Posted By Lori from Port Matilda, PA United States
Utterly charming!
Aug 2, 2019 | Posted By Susan charles from Downers Grove, IL United States
This was a gift for a dear friend of mine. She has been admiring my steel-drum artwork and I've been searching for something similar for her for years. This was delivered promptly in great condition. The piece is coated front and back so is suitable for either indoor or outdoor display. My friend was so delighted with this colorful artwork that she hung it up on her patio wall immediately after she returned home.
FUN & QUIRKY
Jul 11, 2019 | Posted By Rochellle from Reno, NV United States
This sun will make even cloudy days sunny!
Love it!
May 18, 2019 | Posted By Connie from Huson, MT United States
I had been looking at this sun for a couple of years and finally bought it this year to place on the side of our garage next to a porch swing. It looks great, arrived in great condition and I hung it up immediately!
Looks beautiful! Too early to comment on how long it lasts
May 2, 2019 | Posted By Bob from Columbia, MD United States
It looks beautiful, just like the picture in the catalogue and as far as I can tell the workmanship is first rate. I have this hanging outside but only for a week so far so its too early to tell how long the paint holds up outside. Here's hoping!
Excellent workmanship!
Apr 2, 2019 | Posted By Diane from Sheridan, WY United States
I absolutely love my Soley Wall Art. I am going to put it outside where it will greet and welcome everyone when they come to our door.
soley wall art
Mar 15, 2019 | Posted By Sharon Bodenschatz from Brewster, NY United States
beautiful! I've been looking at this in the catalog for years, and I was not disappointed when I finally made the purchase.
Great purchase
Jun 24, 2018 | Posted By Janet from Baldwin , NY United States
This wall art displays beautifully. Great to know the purchase helps our world neighbors as well.
Beautiful
May 4, 2018 | Posted By Mary Ann from Chattanooga, TN United States
This is a beautiful piece of art which I look forward to shining down from my patio wall for many years.
Beautiful Craftsmanship
Apr 10, 2018 | Posted By Ann from Olympia, WA United States
Beautiful piece of art! Arrived very quickly and in perfect shape.
Favorite One?
Mar 16, 2018 | Posted By Jane from Minneapolis, MN United States
Loves these beautiful metal artworks. Wouldn't know they are made from barrel lids--they are so artistic and made with love. Bought three different ones to put up on our deck. Looking forward to hanging them up this upcoming warm weekend! I think this is my favorite of the three but all have their n unique beauty
Excellent
Apr 16, 2017 | Posted By Furb from Jackson, NJ United States
Great Sun Burst!
Mar 30, 2017 | Posted By Gene from Spartanburg, SC United States
Looks wonderful on the side of our garage, shining over the back yard. Well made.
My sister will love it.
Mar 30, 2017 | Posted By Linda from Canon Tity, CO United States
One of the best gifts for her birthday.
Just Beautiful!
Feb 22, 2017 | Posted By Linda from Akron, OH United States
I have ordered other art items made from steel drums, and always been pleased - most of them from SEERV. This one takes the cake, I do believe! It will go on my back porch (semi-enclosed) once the weather turns nice. Can't wait to display this!
Bright and Beautiful
Aug 30, 2016 | Posted By Wendy A. from Raleigh, NC United States
I love this sun art! I was looking for something large to hang on my deck "wall". It is brighter than the picture and a great size (I was worried it might be too small). I ended up hanging it on my screen porch so I can enjoy it more. It is well crafted and came with no damage.
Soley wall hanging
Jul 5, 2016 | Posted By Cathy Coleman from Anniston, AL United States
The artistry is great, it's beautiful and I have it hanging on the fence gate into my back yard so that anyone who drives by can enjoy it. Thank you!