View Product Reviews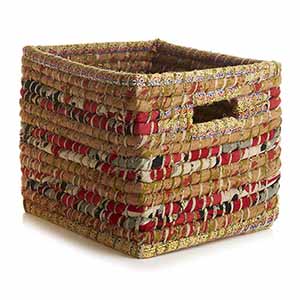 Baskets
Jul 5, 2023 | Posted By Jan from Clifton Park , NY United States
LOVE YOUR BASKETS! Will be ordering more and love your quick delivery!!
perfect storage bin
Jun 21, 2022 | Posted By Kathy Partridge from Longmont, CO United States
I wanted a sturdy storage bin with plenty of room for my notebooks. I how my new colorful chindi wrap basket is perfect is so much prettier and more ecological than a plastic or cardboard alternative! And so lightweight yet strong!
large chindi wrap basket
Dec 26, 2021 | Posted By donna from Polson, MT United States
My second one. Will order more. Perfect for holding files and beautiful!
first time serrver
Dec 13, 2021 | Posted By Erinn P Hughes from Southport, NC United States
beautifullly crafted and sturdy
Right Size to Reorganize Closet
May 16, 2021 | Posted By Sharon R. Windsor from North Las Vegas, NV United States
Decided to reorganize my closet this Spring since my baskets were falling the top shelf. I got (3) Chindi Wrap Baskets & they fit the shelf perfectly & are very sturdy & have handles & they are colorful too! I will be ordering more when Back in Stock.
Large Chindi Wrap Basket
Apr 30, 2021 | Posted By Catherine Kladis from Dewey , AZ United States
Perfect size for my needs and so colorful!! It goes well in my living room and works for storing catalogs, magazines and papers I need to go through.
Awesome Basket!
Mar 3, 2021 | Posted By Stephanie from Wichita Falls , TX United States
I use the basket as a magazine holder in my living room. It is beautiful and functional.
Colorful basket
Dec 28, 2020 | Posted By Mary Lou Battley from Northville, MI United States
The basket was a little bigger than I anticipated but looks great. I'm a musician and teach and it works great for my music books and folders.
Great basket!
Dec 3, 2020 | Posted By Melissa from Baltimore, MD United States
Perfect
Dec 3, 2020 | Posted By Danica Middlebrook from Severna Park, MD United States
These were just what I was looking for - they are perfect for our winter hats, gloves and scarves.
So pretty
Nov 11, 2019 | Posted By Carla from Roanoke, VA United States
This basket is some colorful and seems sturdy for my needs. It's large and well made. I love it.
Chindi Wrap Basket
Jul 29, 2019 | Posted By Sharon R.Windsor from North Las Vegas, NV United States
Absolutely beautiful! I knew I was taking the "luck of the draw" on the color but, I happen to love the color red. It is in my home office. My credenza has a open bottom with a shelf & it fits perfectly & adds a "pop" of color.
Chindi Baskets
Feb 24, 2018 | Posted By Barbara from Cedar Falls, IA United States
Love the bright colors and beautiful workmanship.
Chindi Wrap Baskets
Sep 26, 2017 | Posted By Jo from Nashville, TN United States
well made
Aug 11, 2017 | Posted By Vidette from Tacoma, WA United States
These baskets are beautiful , well made, and soft to the touch. I was truly impressed. The colors are vibrant without being too bright.
Really pleased with these baskets
Feb 22, 2017 | Posted By Emily from Columbus, OH United States
I purchased these baskets for clothing storage and I couldn't be more pleased. They are sturdy and attractive, and the colors (which you can't specify) were exactly what I would have chosen myself. Worth the price, definitely.
Beautiful and useful
Oct 26, 2016 | Posted By Jeanne from Storrs, CT United States
This basket is the perfect size for holding our winter hats, scarves, mittens. They're stored right there in the living room, but because the basket is so nice-looking, it's not an eyesore. Fits right under the small table I have there. Very well made. Sturdy.
Pretty and Useful
Aug 11, 2016 | Posted By skyalaska from Salem, OR United States
Love this! I ordered this basket for a shelf above our shoe bench. It is beautiful, good quality, and perfect size to stow scarves, gloves, etc.
love these baskets
Jul 22, 2016 | Posted By Jocelyn Langholz from Ashland, WI United States
These baskets have been extremely popular at our shop - folks have bought them in multiples to fill storage cubbies. They are sturdy, beautfiul and highly functional.