View Product Reviews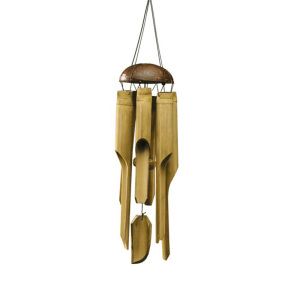 Beautiful with a lovely sound
May 29, 2023 | Posted By Christina Ensign from St Louis , MO United States
My husband was thrilled to receive this as a birthday gift. The sound is gentle and enchanting. It's attractive to look at as well. We like its simplicity.
Serene
Mar 22, 2023 | Posted By Rachel Van Exel from Costa Mesa, CA United States
Love these, as the sound they make is so soothing to me.
Gentle Sound
Feb 18, 2023 | Posted By Ellen J Koretz from Seattle, WA United States
I got a set of these over 3 years ago and they have survived the Pacific Northwest weather very well. They make a lovely gentle sound and I am really enjoying them.
Wonderful replacement
Mar 12, 2022 | Posted By Ann Bracey from Fort Worth, TX United States
Such a gentle, pleasant tone in the wind.
Store manager
Jun 22, 2021 | Posted By Susi Brower from Vincennes, IN United States
We love the bamboo windchimes, however they must be very delicate. We hated that one arrived broken, and we're working on getting it returned
We're sorry that happened! Breakage on these is rare, we'll work with you to resolve this.
The BambooWind Chime
Apr 10, 2021 | Posted By Sharon from La Quinta, CA United States
We love this wind chime because the sound is soft and soothing. It is not loud or annoying.
Beautiful sound
Mar 29, 2021 | Posted By Ann Marie from Pottstown , PA United States
Definitely consider buying. Great craftsmanship and quality. They sound so beautiful and soothing.
Beautiful, subtle
May 30, 2019 | Posted By Michal from Boston, MA United States
Lovely natural addition to my back yard, beautiful subtle sound, just what I wanted.
Great addition to garden
Apr 12, 2018 | Posted By Brenda from Wake forest , NC United States