View Product Reviews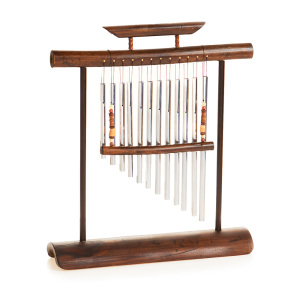 Gentle Chimes
Oct 12, 2023 | Posted By Linda Nemitz from Austin, MN United States
This fits perfectly in my window. I like the design, construction, and the chimes gentle sounds. Thank you artisans
Poor Quality
Apr 9, 2022 | Posted By Cheryl Chevis from Portland, OR United States
I was shocked to see what I received, which looked so crude and not like the picture representing the chimes. The rod on which the chimes hung had a 6 in gouge with a 1/2 in splinter sticking up, despite black thick paint painted over the defect. There were I in bands around the rod in the black thick paint- irregular, not part of a pattern, that appeared to cover up other gouges. The little pegs that were small carved bamboo between the top and chime rod in the picture were not there but black crude pegs one of which was improperly set in the rod so that the top was at an angle and not parallel to the chime rod. The finish on the bamboo has a black wash filling in scars, gouges and hundreds of tiny black holes that look like insect holes. I purchased this to give as a gift and it is so horrible I will return it. I have purchased many of items from Serrv that were good quality and true to the pictures; I am sorely disappointed that the organization would send something like this out - it does not inspire confidence in quality control or veracity of the artists represented.
We're very sorry about this quality, and appreciate your sending photos for us to share with our artisan partners. We've sold this chime for years and to our knowledge this is the first time this has happened.
Serene Sound
Dec 24, 2021 | Posted By Karen from Pt, NY United States
The lovely tinkling of these standing chimes is is so pretty and soothing. Lightweight and Very nicely made too. It's going in my entryway. Would make a very nice gift.
Beautiful in appearance and sound
Nov 19, 2021 | Posted By Stef from Belfast, ME United States
This is a beautiful hand-crafted piece that sounds lovely and looks wonderful
Windchimes
Apr 16, 2021 | Posted By KB from CHATHAM, NJ United States
Love these chimes! I can pretend I'm sitting on a patio even tho I live in an apartment!
indoor chimes
Mar 28, 2021 | Posted By Laura from Philadelphia, PA United States
This indoor standing windchime adds a lovely note to a desk or windowsill. The tones are very soothing.
Ordered many items
Feb 17, 2021 | Posted By Susan Martin from Arlington, MA United States
I was happy with quality of each item ordered
Excellent!
Nov 30, 2020 | Posted By Marie from Sharon, MA United States
As someone who loves wind chimes, I am really looking forward to using these. They are very well made and can be easily moved from one window to another so that I can enjoy the soothing sounds of the chimes wherever I may be. Highly recommend!
chimes
Nov 23, 2020 | Posted By Anna Webster from Danvers, MA United States
Freestanding Kalmada window chimes
May 19, 2020 | Posted By Joanne Brugato from Toppenish, WA United States
Beautiful to look at, awesome, soothing to hear. Plus my cat subs for wind.- seems to like it too!
Love, but
May 10, 2019 | Posted By Veronica from Glen Burnie, MD United States
Love it Only problem the base is much wider than a basic window sill
Very Nice Wind Chime
Dec 11, 2018 | Posted By Linda Lynch from Arlington, MA United States
The wind chime looks really nice on my back porch, on a small table where it catches the air. It was well packed so it arrived in good condition and when expected.
windchime
Nov 13, 2017 | Posted By sheryl from dunbarton, NH United States
Peaceful and pretty - looks exactly as shown.
Lovely Chimes
Jan 22, 2017 | Posted By Jean from Long Beach, NY United States
Finally ordered the chimes. Every time I hear them, my day brightens up! Just lovely.
Just what I wanted
Jul 7, 2016 | Posted By Cindy from Austin, TX United States
Good size, soft tone, natural look