View Product Reviews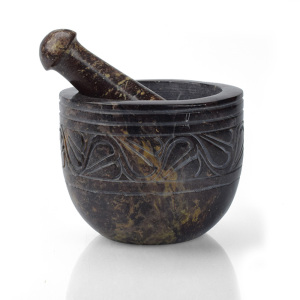 beautiful mortar and pestle
Jan 20, 2023 | Posted By cindi morgan from barre, VT United States
This piece is nicely made, and will have a position of pride in my kitchen. It's a perfect size for grinding spices.
Looks good
Jun 26, 2022 | Posted By P Kelly from Grapevine, TX United States
I have to admit I have not used this yet. The bowl is not very deep. I believe it will work for grinding small amounts, like spices. I love the way it looks and I leave it out on display
long-time customer
Nov 7, 2020 | Posted By Nan Nutt from Concord, NH United States
This a a lovely heavy piece, much lighter than the picture in delicate grey and pink. It temps me to keep it although it was ordered to use as a gift. It arrived with a broken pestle which I reported and it took only three days to get the replacement thanks to a very quick response from SERRV customer service. Thank you SERRV!
Large, solid and priced well
Nov 30, 2017 | Posted By Janis from Richmond, CA United States
I don't use a mortar & pestle that often, but when I do, I need one that is heavy and can grind spices. This fits the bill perfectly, plus it is quite beautiful.
classic, collectible & useful
Oct 28, 2017 | Posted By Janice from Brooklyn, NY United States
I have a collection in my kitchen of mortar&pestle sets: glass, wood, marble, stone, ceramic, cast iron, Various sizes accommodate different volumes of spices and herbs that only yield their desired flavor and scent when they are crushed/bruised/squeezed - and the fresher, the better. Thank you for offering these useful attractive items which symbolize the skillful cook or herbalist/pharmacist/apothecary.