View Product Reviews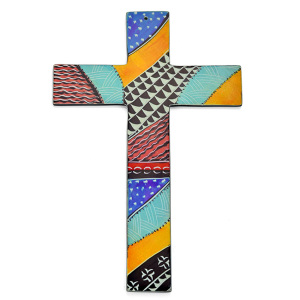 Beautiful cross
May 29, 2022 | Posted By Judith Roy from South Jordan, UT United States
This item is very beautiful. It looks to be made out of pottery and is crafted well. I am looking forward to placing it in a prominent place in my home.
Beautiful
May 23, 2020 | Posted By Nancy from Lincoln, NE United States
Realized while worshipping from home I don't have much to visibly proclaim my Christianity. This Kenyan soapstone cross on the wall behind me is a beautiful symbol of my faith in Zoom rooms and just for me!
beautiful cross
May 12, 2020 | Posted By Linda from Tamarac, FL United States
Cross
Sep 26, 2019 | Posted By Christine Mendryga from Allen Park, MI United States
Beautiful! I loved the cross. It makes a perfect addition to my home.
Blesses My Garden!
Apr 3, 2018 | Posted By Susan from Beacon, NY United States
The former owners put these tiny ring hooks along the base of the upper deck and on the trellis above the lower deck (that makes the house sound grander than it is!) to string fairy lights; I use them for small ornaments and artworks, and this cross is perfect, it is colorful, beautifully made, and the way I tend garden, I need all the help I can get.