View Product Reviews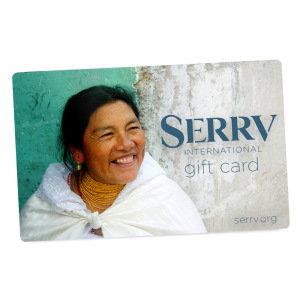 Great Gift Idea
Sep 23, 2023 | Posted By Elizabeth Barrett from Raleigh, NC United States
This was a gift for my daughter's birthday. She was delighted to choose gifts from SERRV. She picked items made with recycled Saris for the special uniqueness. A gift card is a great idea when you're not sure what to give to someone you love.
Gift card
Dec 27, 2022 | Posted By Mary Edwards from Cheboygan , MI United States
Your gift card was a Christmas gift for my sister and a big hit. She absolutely loved it.
Gift. Card
Dec 16, 2020 | Posted By Wanda Boustead from Georgetown,, PA United States
Love to shop for an impact!
Never disappointed
Mar 29, 2020 | Posted By Pam from Duluth , MN United States
I gave our daughter-in-law a gift card for her birthday. She's excited to buy something unique and well made for their new home. I love shopping Serrv because of the fabulous quality, individual creations, I'm connecting with other people on the planet and hopefully helping them to thrive.
Always great gift
Apr 30, 2018 | Posted By Randy from Jacksonville, FL United States
Gift cards allow the recipients to buy beautiful items and to make them aware of SERRV and its mission
Gift Card
Jul 28, 2017 | Posted By Sue from Woodstock, MD United States
Birthday Card Order
Nov 23, 2016 | Posted By Susan Kunkel from Woodstock, MD United States
Great looking cards, and very quick delivery. Perfect in everyway.