View Product Reviews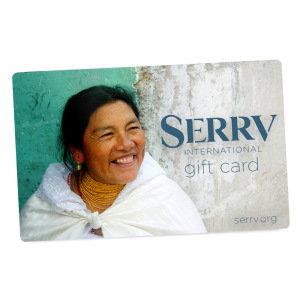 Wonderful
Jun 2, 2021 | Posted By Kathy Porter from LOS ANGELES, CA United States
Thank you very much for making it so easy to order your wonderful gifts and have them delivered in a timely manner.
Gift-giving with heart
Mar 8, 2021 | Posted By Winifred Davies-Hancock from Bloomfield Hills, MI United States
I love supporting SERRV's goodness in the world by giving a fun and easy E-Gift Card to friends and family. I'm making a doubly good purchase!
Perfect!
Jan 6, 2021 | Posted By Susan Flemr from Des Moines, IA United States
Three shipments of Divine Chocolate reached all destinations right before Christmas. We are so grateful. Thank you for great service.
e gift card
Dec 20, 2020 | Posted By Noreen Walker from Albertville, MN United States
A perfect gift as there is such a diverse and appealing selection to choose from.
Couldn't Apply to Purchase
Nov 18, 2020 | Posted By W. from Citrus Heights, CA United States
I kept receiving an error message when I tried to apply a $50 giftcard at checkout to help pay for a $100 purchase. The error message said that there wasn't enough monies on the giftcard to cover the entire purchase so I couldn't use it and ended up having to pay the full $100 at checkout. This led to getting on the phone with Serrv a couple times and having them refund me $50 dollars and deactivating the giftcard. This seems like a coding issue with Serrv's payment process so just a heads up. I love the products at Serrv but for the future I would avoid getting giftcards and just stick with buying specific items.
We're sorry for the challenges with this E-gift card. We're working to ensure this was an isolated incident.
E gift card
Nov 3, 2019 | Posted By Nancy Stuebner from DELANSON, NY United States
I appreciate having the option to give an electronic gift card, especially for last minute gifts. However the process by which you send them could be improved. The card was sent to me instead of the intended recipient, and took two days for me to receive. There were errors in the recipient's name and in the dollar amount. This delayed the gift even more. I would give it 5 stars if this didn't happen, since the convenience of this option is good.
We are sorry these problems occurred and we are working on improvements! Thank you for your support.
Great Gift
Apr 13, 2018 | Posted By Carole from Medina, OH United States
My daughter was thrilled with the gift certificate and chose her items promptly. I will do this again.
Sister
Dec 26, 2016 | Posted By Jean Marie from Omaha, NE United States
Very nice presentation of the gift card. I sent them with pride to my friends. Easy access. Gift cards arrived by email in 48 hours. Excellent service! God bless.
Great company...
Dec 21, 2016 | Posted By Michael from danbury, CT United States
Great Company - would recommend to others.