View Product Reviews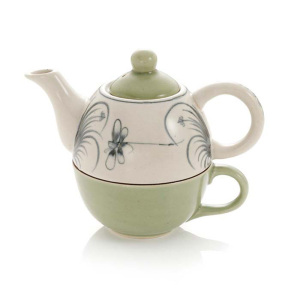 Charming and sturdy
May 21, 2021 | Posted By Catherine Brennan from St Paul, MN United States
I need a teapot that I can use daily. This one is charming and sturdy. Fairly thick, so the tea stays warm and the lid is small and sturdy. Finish has begun to crack a bit, but that has not affected its usefulness. I am enjoying my teapot very much!
Perfect for a tea drinker
Jan 26, 2018 | Posted By Pat from Frnakfort, MI United States
This little teapot sitting on top of the cup makes 3 perfect cups of tea if you drink weak tea as I do. One poured almost immediately and then the pot filled again. The design is pretty, the cup holds comfortably. An early present and lovely on a chilly winter morning! One possible addition - a pretty tea cozy to use with it?
Thanks for the suggestion!
She Loves it!
Dec 26, 2017 | Posted By Susanna from North Hills, CA United States
My 18 year old granddaughter simply loves her Dragonfly Tea Cup for One! In addition, it happens to be her favorite colors. She has set up a study area in her bedroom (of the house she shares with her parents) and this space has a comfy chair and side table for snacks and tea while she studies. This could not have been a better Christmas gift for her.
Perfect Size and Shape
Sep 28, 2017 | Posted By Kelly from Indianapolis, IN United States
I love this little teapot and cup - perfect size for me to have two cups by myself or share one. No strainer in the pot, so I have to make my own tea bags. It pours well, rarely drips, cup is easy to hold.
Useful art
Dec 20, 2016 | Posted By Ellen from Shorewood, IL United States
Beautiful colors, skilled artwork, just as picture shows, use and display.
Lovely Tea for One Set
Oct 15, 2016 | Posted By Susan from Washington, DC United States
This is a very lovely set for when you want a proper cup of tea for just yourself. The dragon fly design is even prettier than the pictures. And the pot really holds enough for two cups--in case you DO want to share!