View Product Reviews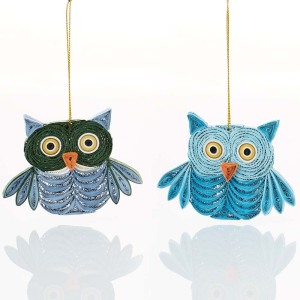 Awesome
Oct 11, 2022 | Posted By Nancy from Eugene , OR United States
These are so much lovelier than the pictures can show. So glad I got them!
Quilled Owl Ornaments
Jan 21, 2021 | Posted By Carol Sims from Atlanta, GA United States
Adorable! Beautiful workmanship!
first time customer
Dec 25, 2020 | Posted By Karen Ketels from Colorado Springs, CO United States
I received my order in a timely manner and they are exactly as expected, just adorable
Great gift ornament
Dec 16, 2019 | Posted By J. Wells from Santa Monica, CA United States
I was surprised and pleased with the owl ornaments. You wouldn't think they were made out of paper. Sturdy and very pretty.
Beautiful Detail
Dec 8, 2019 | Posted By Belle Catharine from New Port Richey, FL United States
I appreciate the skill necessary to create such art works. Whatever craftsperson made these, please keep in mind that you are an artist, and you made two ornaments that will be treasured forever. Thank you.
Adorable
Nov 23, 2019 | Posted By Mary Tibiatowski from La Mesa, CA United States
These little guys are so cute and a wonderful hostess gift during the holidays!
Love The Owls
Dec 26, 2018 | Posted By Rose Kellogg from Olympia, WA United States
The owls are beautiful and durable, and the artisanship is exceptional. I got several and gave a few away as gifts.
Love them
Dec 16, 2018 | Posted By Leanne from Tallmadge, OH United States
As an owl collector, I'm always looking for something unique that I don't have and the quilling owls fit that criteria. I was so pleased when they arrived and just in time to hang on the Christmas tree. Thank you!!!
Wise to Buy!
Dec 9, 2018 | Posted By Janice from Ellicott City, MD United States
Our church holds a fair trade bazaar every year and today was the day. These owl ornaments are incredibly intricate and very cute!
Works of Art
Dec 8, 2018 | Posted By GV from Albuquerque, NM United States
Such lovely owls, they are truly beautiful works of art!
Very Cute!
Dec 7, 2018 | Posted By Barbara Perry from Cordova, MD United States
These are adorable and very well made. I bought them for a tree that we will decorate next year for the local Festival of Trees 2019. Our theme is birds and feathers.
Cute owls
Dec 1, 2017 | Posted By Lucinda from New York, NY United States
Love these owl ornaments. Cutest ever and very well-made. I used these as gift adornments and they complemented the packaging perfectly. If owls are your thing, these are for you.
Paper owl ornaments
Nov 24, 2017 | Posted By Susan from Nashville, TN United States
These are absolutely precious, and not nearly as fragile as i feared. I definitely recommend them!
Cute
Apr 19, 2017 | Posted By Patricia from Phoenix, AZ United States
Recipient does quilling...very impressed with work in these and liked them!
CRS Fair Trade Ambassador
Nov 13, 2016 | Posted By Ruby from Jacksonville, FL United States
People are always fascinated by these exquisite quilled owls. Beautiful!