View Product Reviews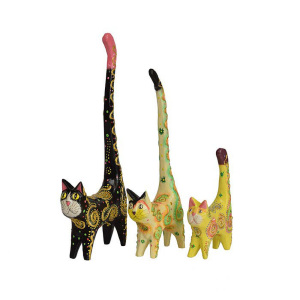 Party Cats
May 25, 2022 | Posted By Pat Bell from Copley, OH United States
These cats are really popular with our customers. They love the cats.
Party Cats
Mar 19, 2022 | Posted By Ginger Wallis from Issaquah, WA United States
The Party Cats are great; I love them. They are well made and came quickly. I gave the black one to my daughter and she was thrilled.
sold out
Jun 22, 2021 | Posted By Susi Brower from Vincennes, IN United States
Our customers loved the party cats. They sold out within the first two weeks we had them. We will definitely be ordering them again
Party Cats
Jan 20, 2021 | Posted By Joan M Alexander from Port Jefferson, NY United States
Even more beautiful than pictured! Intricately painted & attention to detail. Love!
Party Cats
Jul 18, 2020 | Posted By Linda from Sturgis , MI United States
These little cats are exquisitely painted and incredibly cute!
Very Nice!
Sep 21, 2017 | Posted By Anne from CHICAGO, IL United States
The Party Cats have detailed, great designs on them. I may use them to display rings on the tails. Great gift idea.
Owner
May 30, 2017 | Posted By Diana from Nashville, IN United States
Party Cats/ Cat Family
Oct 15, 2016 | Posted By Timothy Bosnyak from Delray Beach, FL United States
Wonderfully illustrated and so sweet! They brought a smile as we opened the box!