View Product Reviews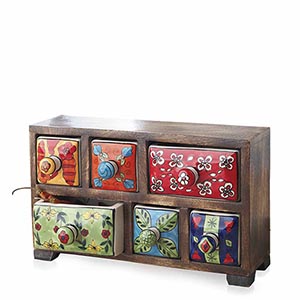 Mango Chest
Jun 7, 2019 | Posted By Kelli Savercool from Spring Valley, CA United States
Excellent! We will be keeping it for kitchen spices. A must have for the home cook.
Beautiful And Well Made
May 15, 2019 | Posted By Gwen Anderson from Bemidji, MN United States
This spice chest adds wonderful color and warmth to any room. Very well constructed and stylish.
Love it
Jun 8, 2018 | Posted By A from Atlanta, GA United States
Cute, bright statement piece loved by all my visitors have bought a second, as a gift already. I love it.
spice chest
Mar 13, 2018 | Posted By marjorie from Port Republic, MD United States
All three items I ordered were highly satisfactory and I was impressed with the speed of the delivery. Thank you for the rapid response.
Kitchen Radiance
Dec 28, 2017 | Posted By Pamela from Fairfax, VA United States
This Spice Chest is a beautiful addition to our kitchen. Not only does it have great space for the spices but the colors in the chest itself light up the kitchen. The warmth of the colors further warms the kitchen making it a favorite family gathering place!
spice chest
Dec 14, 2017 | Posted By Bill from Blasdell, NY United States
I bought it as a present for my sister. She loves it. She plans to use it as a jewelry box.
Just Beautiful
Dec 13, 2017 | Posted By Risa from Santa Cruz, CA United States
This lovely condiment or small miscellany holder is bright and happy and makes me smile each time I pass it. Whether for yourself or as a gift, I can recommend this.
spice box
Jan 9, 2017 | Posted By Michelle from Blairsville, GA United States