View Product Reviews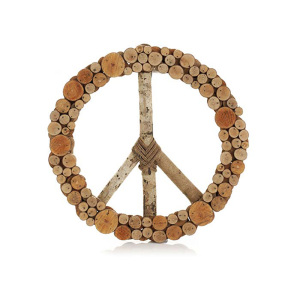 Very cool peace wreath.
Aug 31, 2023 | Posted By Patricia Trindl from Lanark, IL United States
I saw this at my sister's home and thought it was very cool. It's natural and very well made. It would make a lovely gift.
Beautiful peace sign!
Aug 6, 2023 | Posted By Julie Newfeld from Chicago, IL United States
I absolutely love my new garden art. I hung it on my house. It looks great as a backdrop in my native garden. It is beautiful, unique and so well made. It came in a timely manner and the price was reasonable. Love it!!
Everyone loves this peace symbol:thank you!
Jul 26, 2023 | Posted By Gina from Forest Hills, NY United States
I got this several years ago and have it hanging behind me whenever I am attending online meetings and gatherings to set the tone for peace for all. It gets comments and having it hanging in my home has indeed filled my home and my life with peace. Thank you to those that made it so very beautifully and thank you to SERRV for making it possible to own something so meaningful, made halfway round the world.
Peace
Jul 10, 2023 | Posted By Sharon from Sunset Beach, NC United States
This is for a friend for her birthday. I believe she will really like it.
Peace Wreath
Mar 5, 2023 | Posted By Jean Stringer from Centennial, CO United States
Very well made product. It looks just like it did online. Really looking forward to hanging it on my front porch for all to see!
This wreath is perfect
Jan 12, 2023 | Posted By Mary from Highland Mills, NY United States
It is strong and eye catching, worth the purchase.
Great
May 18, 2022 | Posted By Frederick Bindel from Snohomish, WA United States
Substantial. Good craftsmanship; Hangs on my front door. Great visibility
Peace Wreath
May 10, 2022 | Posted By Vickie O. from Des Moines, IA United States
Wonderful addition
Apr 13, 2022 | Posted By Anastasia from Boston, MA United States
We love this well-made, wooden peace sign wall hanging. We actually bought two - one for our home and one for the vacation cottage. It came quickly and well packaged. Great service.
Peace
Dec 15, 2021 | Posted By Alice M Connelly from Palmetto, FL United States
Worth the wait!
Mar 13, 2021 | Posted By Molly N. from Northridge, CA United States
The layered peace wreath was backordered so I waited and was it ever worth it! This is a fabulous piece which I will treasure and I appreciate every bit of work that went into it, gratitude, namaste.
So creative!
Nov 29, 2020 | Posted By Barbara-Anne from Austin, TX United States
This wreath is beautiful! Excellent craftsmanship. I like that it's unique.
Love and Great Quality
May 7, 2020 | Posted By Deborah R Neuman from KATY, TX United States
Have it on the wall of our patio near the edge of roof cover. I've had it there for over two years and it still looks new. One of my favorite purchases.
Love this!
Jan 1, 2020 | Posted By Cynthia from Lebanon, CT United States
This is beautiful, great workmanship & a unique piece of art. Thank you!
Lovely
Dec 27, 2019 | Posted By Cindy Veinot from LOMBARD, IL United States
Gave this as a gift and the recipients love it. What else can you say about PEACE other than it is great
Very happy!
Dec 12, 2019 | Posted By Teresa from Santa Rosa , CA United States
I am thrilled to help these women and get a lovely gift for my friend. It is beautiful craftsmanship.
Love this Peace Wreath
Aug 2, 2018 | Posted By Linda from GAINESVILLE, VA United States
I ordered this for a friend who loves anything having to do with peace signs. It was perfect for his patio garden. The item arrived within just a couple of days and was even nicer than I expected. A perfect gift for my friend!
Peace Wreaths
May 26, 2018 | Posted By Robyn from Putnam, CT United States
Adorned with red bows and yellow flowers these peace symbols were a perfect greeting on the church doors for our Pentecost celebration!
Beautiful!
Jan 24, 2018 | Posted By Susan from Beacon, NY United States
I wanted to get a new wreath for my front door, but all the ones I saw left me cold, even if I liked the look of them-didn't know why. The prices were outrageous, too. Then I thought I should get a handmade one, that was what was bothering me, I wanted the product of someone's creativity, but all the ones I saw at local fairs were really tacky. I had gone to serrv to buy something else, and I came across this peace sign and when you find the right thing, you know it! It looks fantastic on my home, and it is a blessing-in this time of viciousness, violence and pure meanness, I can at least proclaim my values, and mark my home at the entrance as a sanctuary of peace. Thanks and blessings to the craftspeople who did such a beautiful job on this, and for such a reasoable price.
peace wreath
Dec 19, 2017 | Posted By Barbara from Cedar Falls, IA United States
Very cool wreath. Sells well in our store.
Peace to all
Nov 30, 2017 | Posted By Katy from Sturgeon Bay, WI United States
This lovely wreath is nicely made and a wonderful value for the price! It looks beautiful on my woodland house and is a meaningful note beyond just being decorative. I don't know how well it will weather the winter but I'm prepared to repair or buy it again if it doesn't. Highly recommended!
Peace sign
May 21, 2017 | Posted By Melanie from Spokane, WA United States
I love this inventive peace sign. It is hanging on my porch.
Peace wreath
May 19, 2017 | Posted By Celeste from Fort Wayne, IN United States
Awesome porch decor, great quality and I love the uniqueness.
Beautiful!
Dec 17, 2016 | Posted By Helen from Carmel, IN United States
This is so well crafted, unique, and gorgeous! I am so glad I bought for our sunporch!!
buyer
Sep 3, 2016 | Posted By vicki from rocky river, OH United States