View Product Reviews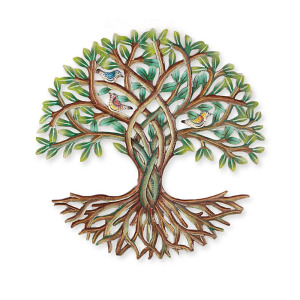 Amazing
Dec 23, 2020 | Posted By Judi from West Richland, WA United States
We built a new sunroom and this will go there. Amazing piece of art! We both love it. Thanks so much.
Beautiful
Aug 17, 2020 | Posted By Bonney Schaub from Huntington, NY United States
I gave this as a gift and it was greatly appreciated. Sturdy and beautifully crafted.
Gorgeous!
Aug 5, 2020 | Posted By Elizabeth Smith from Sacramento, CA United States
I love it! The colors are vibrant and the detail is perfect. A few brass nails strategically placed blend in and hold it securely to the wall. I'd been wanting this one for a while... happy I finally did it!
Beautiful handcrafted artwork
Sep 19, 2019 | Posted By Peter Hruschka from Ada, OH United States
It is hanging in our house and we enjoy looking at it. It is amazing what the artist did with metal from a discarded oil drum, lots of cutting and hammering and painting to create this fine wall art.
The tree of life blooms!
Aug 22, 2019 | Posted By Sandy Brown from Baton Rouge, LA United States
I just love this piece! It brightens up any space that you hang it in. The quality is amazing and the artistry simply dazzles . If you are thinking about buying it, stop thinking and just do it! You will not be disappointed!
Beautiful
Jul 29, 2019 | Posted By Melvin Finuf from Winfield , KS United States
I was very impressed with the quality when I received the product. We have placed it on our garage where it is visible from the house. It is a beautiful addition to our landscape. I am interested in how it will stand up to the weather.
Beautiful product
May 19, 2019 | Posted By Kimberly Kave from Middlebury Center , PA United States
Love this tree! So beautiful in person. This will be our focal point, incorporated into our new railing / banister.
We'd love to see a picture!
Lovely decor item
Apr 15, 2019 | Posted By SharonPropas from Fremont, CA United States
Everyone who has seen our new wall art has commented on how striking and well done it is. Beautiful piece.
Beautiful!
Feb 26, 2019 | Posted By Bernhard from Phoenixville, PA United States
This came just as beautiful as we hoped, and found its place right atop our front door. Really well done piece of art!
LOVELY!
Jun 10, 2018 | Posted By Cynthia from EAGLE POINT, OR United States
Just what I wanted. It's going on the outside of my new gardening shed, love it!
Beautiful Artistry
Mar 16, 2018 | Posted By Jane from Minneapolis, MN United States
Loves these beautiful metal artworks. Wouldn't know they are made from barrel lids--they are so artistic and made with love. Bought three different ones to put up on our deck. Looking forward to hanging them up this upcoming warm weekend! Really can't decide which one is my favorite.
Beautiful
Feb 2, 2018 | Posted By Kelly from Colorado Springs, CO United States
We looked at the "Tree of Life" last year and waited too long to order it -- it was out of stock by the time I tried to place the order. Well, it was worth the wait. It is just beautiful. The colors are vibrant. Very well made. I definitely recommend the purchase.
tree
May 31, 2017 | Posted By Marianne from Pleasantville, NY United States
just a beautiful piece of art!