View Product Reviews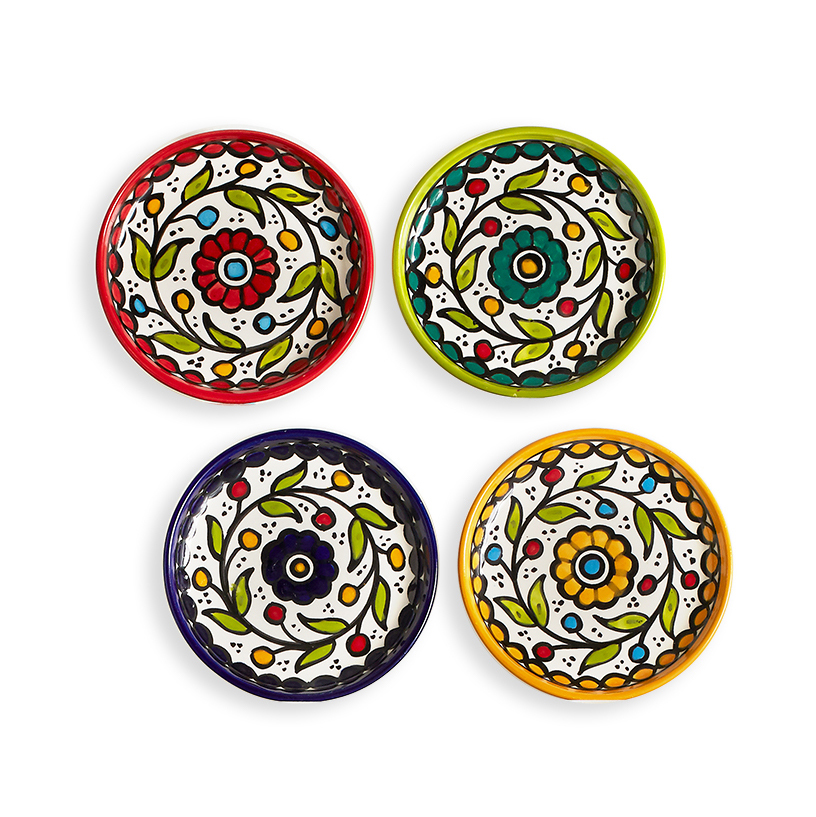 Great plates for special occasions
Jan 31, 2023 | Posted By Camille Privette from Severn, MD United States
I will use these as snack or dessert plates. The design is so colorful.
Beautiful but small
Dec 26, 2022 | Posted By Kathy P. Chartrand from Olathe, KS United States
Beautiful design. Smaller than I anticipated.
A beautiful addition to the collection I already started
Dec 24, 2022 | Posted By Dorothy Brown from Trumansburg, NY United States
Nice for serving a variety of dips or snacks. A beautiful pattern that brightens any kitchen or table.
Love these!
Nov 17, 2022 | Posted By Carmen Kulig from Bettendorf, IA United States
This is the second set of these I have purchased. They are perfect for a small dessert and also for oil for dipping bread. This set I will divide for coworker gifts with some other items from Serrv.
Perfect
Apr 16, 2022 | Posted By Michele J Jurasek from Banks, OR United States
Brilliant color and nice size
Disappointed Oma
Dec 28, 2021 | Posted By Sharon Boles from New Braunfels, TX United States
These were gifts, wrapped upon receipt. But when the package was opened, some of the plates were broken!
We're sorry this happened! We'll be in touch directly to resolve this.
Pretty Plates
Dec 22, 2021 | Posted By Jim from Waxhaw, NC United States
These are very pretty and useful, colorful plates. Perfect for breakfast or dessert My wife was very pleased.
So cheery!
Feb 12, 2021 | Posted By Nina Hiatt from Delta, CO United States
I love these little plates. They are so colorful and interesting and perfect for the size dessert you should eat!
So Pretty!
Feb 2, 2021 | Posted By Pamela S Ajluni from Melbourne, FL United States
The vibrant colors and pretty pattern create a beautiful plate for any table. I also purchased a set of matching dipping bowls to be able to serve a wider array of appetizers. The four different colors help family and guests identify which plate is theirs. .
Wonderful small plates
Dec 23, 2020 | Posted By Mary Jane Cera from Tucson, AZ United States
During this pandemic, when having a few friends over spaced out around the yard, these small plates are ideal to serve appetizers and individual servings. They are beautiful and high quality.
small plates
Nov 9, 2020 | Posted By Ann E Peterson from CUPERTINO, CA United States
These little plates are adorable
Oct 19, 2020 | Posted By Sarah Harrison from Gainesville, FL United States
Pretty and also the perfect size for the way I eat lunch.
Gorgeous Plates
Feb 25, 2020 | Posted By Jean from Severn, MD United States
The appetizer plate set is a perfect addition to the larger West Bank pieces. They are pretty, sturdy, and will bring lots of positive comments from dinner guests. Please keep adding to the West Bank collection. The art work is truly exceptional.
Wonderful Plates
Dec 10, 2019 | Posted By Elizabeth Kubicki from Chicago, IL United States
These little appetizer plates are a joy. Colors so bright and beautiful design. I keep one out on my counter and just love seeing it every time I walk by it brings such happiness. Glad to read in another review that there is no lead in the glazes. This should be printed some where.
Lovely, lively bowls!
Jun 8, 2018 | Posted By Phyllis from Fairfax, CA United States
These are lovely,lively pieces! I ordered the larger serving bowl and then the four small bowls. Each piece is hand painted and they decorate any table! Serrv is a wonderful company and I'm happy to support them and all the artisans whose wares they sell.
Real Palestinian Crafts
Apr 17, 2018 | Posted By Marilyn from Winchester, MA United States
So happy with the appetizer plates and this is in a long line of West Bank products that we have purchased for home and for gifts, including platters, utensil holders, salt and pepper shakers, olive oil decanters, and coffee mugs. They are beautiful and colorful and, as second generation Syrians, hope we are making a difference in Palestinian artisan's lives.
prettiest small plates!
Dec 26, 2017 | Posted By Claudia from Seattle, WA United States
I love my set of West Bank small plates! Their beauty is luminous and their size is perfect for endless uses.
Great cheerful plates...
Dec 13, 2017 | Posted By Risa from Santa Cruz, CA United States
...that make any table brighter. Great as a bread plate or for condiments. Even nicer than described.
Lead?
Nov 21, 2017 | Posted By Phyllis from Weddington, NC United States
I just bought these, for olive oil dipping, and wonder if they have lead paint. Thanks for the other care instructions.
Hi, these items have been tested and do not contain lead. Thank you!
Pretty Appetizer Plates
Oct 4, 2017 | Posted By Anne from Westchester, NY United States
Beautiful perfectly sized appetizer plates. They do require careful handling and hand washing. However, they are so pretty , they are well worth the extra care!
small plates
Aug 13, 2017 | Posted By Jane from St. Louis, MO United States
They are wonderful...bright and very well made.
Appetizer Plates
Aug 4, 2017 | Posted By Carole from Shakopee, AL United States
They are really nice. The colors are vibrant. One did arrive broken. However, I called and it was replaced immediately. No questions. I would buy again