View Product Reviews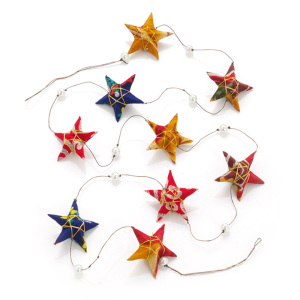 Beautiful addition to my Christmas decoration
Nov 7, 2023 | Posted By Kerstin from Lynden, WA United States
Love the colors and how cheerful and cozy this garland feels. Well made and will be enjoyed for many years to come. Thank you!
Nice garland
Oct 24, 2023 | Posted By Harriet Kopp from Gerrardstown , WV United States
Haven't used it yet but it looks great
Christmas garland
Jan 20, 2023 | Posted By Pam from Louisville, KY United States
Love this garland, looks great strung across our large living room mirror.
Absolutely delightful
Dec 19, 2022 | Posted By Natalie Kersbergen from Harker Heights, TX United States
I grew up in India and always enjoyed the vibrant colors that are shown in these simple yet beautiful stars. Mine were hung under the mantle at Christmas but they looked so pretty I have kept them up and just added accents throughout the year and I couldn't wait to order some more his year to hang around the door frame in my kitchen. If you are thinking about it, get them, you'll love them!
garland made of saris
Dec 15, 2021 | Posted By Mary D Vincent from Greensboro, NC United States
Beautiful garland- I like that it is made with recycled saris.
Star Garland can be used all year
Jan 26, 2021 | Posted By Judy Contolini from Lake Oswego, OR United States
I bought three of these thinking of using them as garland on my Christmas tree, but I now have them hanging around my back sliding door. They are beautiful, well made, and I enjoy looking at them every day.
Colorful Stars
Dec 3, 2020 | Posted By Fran Pettit from Des Moines, IA United States
Perfect addition to our tree.
GREAT DECORATION FOR ANY FESTIVITY!
Dec 10, 2018 | Posted By Meghann Perry from Buffalo, NY United States
beautiful pattern on the stars!