View Product Reviews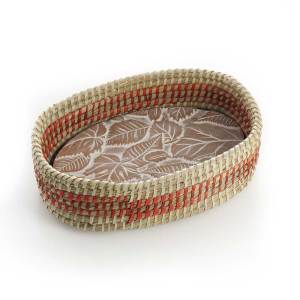 Love it
Nov 29, 2023 | Posted By Marianne Rudolph from Port Republic, NJ United States
Lovely and sturdy
Nov 27, 2023 | Posted By Deborah Roberts from Richmond, CA United States
Very lovely bread-warmer that can stand on its own as a table decoration!
Beautiful Bread Warmer!
Apr 19, 2023 | Posted By Elizabeth Kelly from Ocean City, NJ United States
I love this basket! It is so beautiful; but also so wonderful at keeping the bread warm & tasty. I don't know how I ever managed without it!
Beautiful!
Dec 27, 2022 | Posted By Lara Wilent from Rhododendron, OR United States
I gave this basket/warmer to my husband for Christmas and he loves it. Both the basket and the stone are very sturdy and well made. We took it to a Christmas night dinner with his homemade bread and both got rave reviews!! We love to be supporting an artisan in another part of the world rather than a mass producer of inferior quality product.
Perfect
Apr 22, 2022 | Posted By Jan Scott from Harwinton, CT United States
Purchased as a gift very pleased with product
Beautiful!
Feb 20, 2022 | Posted By Bev Troyer from Churubusco , IN United States
This is a beautifully made basket with an artistic and substantial warming stone. I'm very pleased with it. Thank you!
Great Experience
Dec 16, 2020 | Posted By Kathleen Crum from Mission Viejo, CA United States
My first ever order with SERRV was flawless. My order arrived timely as expected and I was very satisfied with the items, which were packed very well ensuring safe arrival. The opportunity to help the people who create these items was a bonus.
Talking Leaves Breadwarmer
Oct 31, 2020 | Posted By Deborah Willen from Cleveland Heights, OH United States
Beautiful! I love the terracotta detail of the leaves.
Great Gift
Dec 24, 2019 | Posted By Clair Beaver from Wilmington, NC United States
These bread warmers are awesome. The baskets and the stones are so well made and the designs are lovely.
Bread warmer
Nov 7, 2019 | Posted By Diane from Riverhead, NY United States
I love this. Who doesn't like warm bread/rolls. Great gift to take to Thanksgiving dinner.
Falling leaves bread warmer and basket
Nov 5, 2017 | Posted By Janine from CHAPEL HILL, NC United States
Quality of weave and basket is beautiful. The warmer is just what I expected. I have one question, does the material used for the basket have a musty odor???? When my basket arrived it smells quite musty????
Most of our products ship by sea, so it is possible it became a bit musty in transport. May be a good idea to air it out in some sunshine if you can. Thank you!