View Product Reviews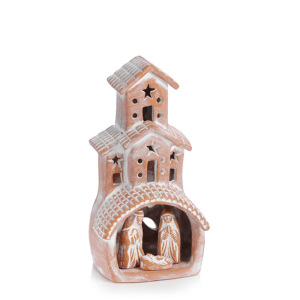 Compact and beautiful small nativity
Jan 30, 2023 | Posted By Kimberly M Hicks from Silver Spring, MD United States
This terra cotta 4 piece set is perfect for a small nook or place on a shelf. I put an LED tea light inside for extra effect.
Not exactly what I expected
Oct 2, 2022 | Posted By Ruth H. from Oakland, CA United States
The holy family figurines barely fit inside the building. I had to place them in there with tweezers and double stick tape so they would stay upright. The nativity must be placed at least chest high and then you have to stand back, or you won't be able to see the faces of Mary and Joseph. Placing it on a table would not work, as all you would see would be the hems of their garments. Once all these caveats were in place, I love it!
So adorable
Dec 12, 2021 | Posted By Barbie Baker from Quitman, AR United States
This is a gift for my mom, it is so much cuter than I even expected.
It's beautiful!
Jan 25, 2021 | Posted By Lesley from Goleta, CA United States
We love our new nativity! It's so unique and beautiful. I love the size--not too big but makes a nice statement on a shelf.
Heatwarming!
Nov 30, 2020 | Posted By vsm from arlington, VA United States
I join all the other 5-star reviews on this very special nativity. Beautifully made. Adding a flickering tea light behind the figures of the Holy Family makes the entire scene glow. Perfection!
Pretty, Compact and Ready for the Season
Nov 12, 2020 | Posted By Theresa Wright from Cincinnati, OH United States
This nativity is exactly as pictured. I think it will look really good with a votive candle nested in it during the Christmas season.
This is now a cherished holiday nativity set.
Jan 23, 2020 | Posted By Kenneth Baker from Chester, MD United States
The design and terra cotta material give this nativity set an authentic look of old Jerusalem and antiquity. It looks even better in the evening when you add a light to shine through the openings. With this design, you can either place it behind or above the figures. The small size means you can easily display it on smaller, crowded surfaces like end tables, a real advantage in an apartment or condo with limited space.
Creche Collector
Jan 9, 2020 | Posted By Linda Carberry from Marshall, MN United States
I have ordered a number of creches from Serrv over the years and find there are so many to choose from, that are very unique. I put them out each Christmas and am finding I may need more space. I love them all.
Terra Cotta Nativity
Apr 2, 2019 | Posted By Susan Lindquist from Fitzwilliam, NH United States
This nativity is just as it is advertised. Perfect size for a mantel or side shelf. It came packed well and the white glaze is really a nice accent for bringing out the detail of the pieces. Thanks ... well worth the price!
Beautiful quality
Dec 18, 2018 | Posted By Heather Clarke from Newnan, GA United States
I bought this as a Christmas gift for someone and loved it so much I'm planning on ordering another for myself. It's such beautiful pottery and very easy to see the craftsmanship.
Awesome Nativity!
Sep 12, 2017 | Posted By Patricia from Phoenix, AZ United States
I may have reviewed this before unwrapping the figurines and putting them in place. If so, well, it's even better now that I have put them in place. Awesome nativity!
Lovely
Sep 7, 2017 | Posted By Patricia from Phoenix, AZ United States
Am looking forward to giving this as a gift!