View Product Reviews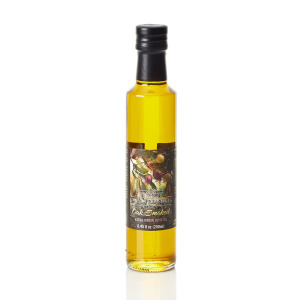 Delicious!
Oct 15, 2023 | Posted By Michele Krause from HUNTINGTON, NY United States
A very tasty addition to the olive oil, the smoked flavor is not overpowering and makes for delicious bread-dipping pleasure.
Wonderful smoked flavored oil
Sep 17, 2023 | Posted By Sara A Bishop from Morgantown, WV United States
My husband first gave me this and the oak smoked vinegar a couple of years ago and I found the subtle smoked oil flavor enhances all my recipes that call for extra virgin olive oil. I especially love to add it to hummus, pesto and marinades. When I run out I am always thrilled SERRV still has it available to purchase.
Wonderful gourmet flavor
Jul 18, 2023 | Posted By Bethany C Morgan from Buchanan, MI United States
Slightly smoky flavor, an amazing addition to pasta, dipping oil for bread, and drizzled on roasted vegetables. Would make a perfect hostess gift or housewarming gift. I will be ordering again!
Savory Addition to Everything!
May 19, 2023 | Posted By Patricia Kingsley from Stafford, VA United States
The flavor of this olive oil enhances a variety of food including salad, rice, and vegetables. I'm going to reorder soon.
RE: great taste
Jan 22, 2023 | Posted By Becky Rickert from CORPUS CHRISTI, TX United States
makes all our meals - meats taste fantastic
Oak-smoked olive oil
Jan 18, 2023 | Posted By Kathryn Albrecht from San Antonio, NM United States
Essential in our kitchen & pantry for three years now! Some products significantly improve your quality of life. This lovely, scrumptious oil is in the top three on that list! (Others are a decent wine club & a year-round, homegrown greens garden.)
Delicious Oil
Jan 1, 2023 | Posted By Mary from Sandy Springs, GA United States
I gave this oil to my friend. She and her family said that it was delicious.
Great Flavor
Dec 20, 2022 | Posted By Dorothea Stierhoff from Baltimore, MD United States
I've been buying this olive oil for a number of years because of its delicious flavor. Makes a great salad dressing with some balsamic glaze. This year, I'm giving it as Christmas presents because everyone who has it at my house loves it.
Smoked delight
Dec 10, 2022 | Posted By Billye Veak from Little Elm, TX United States
Love this olive oil. Mixed in my salad and fish tacos, so good.
A Must Have!
Nov 22, 2022 | Posted By Naomi Seedberg from LIVONIA, MI United States
This is another product I ordered for my son and his girlfriend for their kitchen. You need to have an excellent olive oil on hand!
Beautiful
Feb 11, 2022 | Posted By arlene coker from homosassa, FL United States
I sent this and the other Olive Oils for Christmas gifts of all my family members. I love the flavors of the different oils.
Great flavor
Jul 24, 2021 | Posted By KayKay from Owensboro, KY United States
I love to saute vegetables in this oil. Just adds that little extra!
Great gift
Feb 7, 2021 | Posted By Rachel from Deer Park, TX United States
Sent this to friends & they loved it!
I love this oil!
Jan 21, 2021 | Posted By Melissa Williams from Roanoke, VA United States
This olive oil is so great! I use it to season steaks before grilling them. It adds just the right bit or flavor to anything, meats and vegetables. I highly recommend trying it.
Absolutely wonderful!
Jan 11, 2021 | Posted By Sue from Albuquerque , NM United States
I have been a fan of this oil for years, and use it for all my vegetable dishes and salads. Lovely flavor that doesn't oerwhelm.
It's become a household staple
Aug 31, 2020 | Posted By Tina Bedell from Chicago, IL United States
We love this smoked olive oil. I use it to scramble eggs or give vegetables a nice smoky flavor.. Also delicious with bread. A bottle of this oil paired with some hot rocks has become my "go to" hostess gift.
Very Tasty!
Sep 29, 2019 | Posted By Barbara Dickerson from Independence, MO United States
Love cooking with this oil. Especially good on roasted vegetables!
Lovely Smoky Flavor
Sep 24, 2019 | Posted By Colleen Crowley from Reno, NV United States
My husband enjoys gourmet cooking as a hobby. He loved this smoky olive oil and I love eating the results.
Can't wait to try!
Jun 27, 2019 | Posted By Susan Stoltz from Anaheim, CA United States
This is to be opened soon! The bottle looks so appealing!! I can't wait!
So good, I buy by the case!
May 23, 2018 | Posted By Kara from Weddington, NC United States
Okay - I used to get a similar smoked olive oil at Trader Joes and now they don't have it anymore. Whole foods sells one for almost triple the cost. So I love this stuff so much and order it by the case!
Fantastic
Mar 20, 2018 | Posted By Beth from San jose, CA United States
I first found this at a shop in Santa Cruz and when I ran out had to get another bottle. It has a wonderful smoky flavor and I use it for everything including roasted garbanzos.
DEEELICIOUS!
Sep 30, 2017 | Posted By Michele from Huntington, NY United States
This smoked oil is so good, I used almost the entire bottle the day it arrived, putting it in all the recipes I made that day. It adds a wonderful depth to dishes and makes those eating them very happy.