View Product Reviews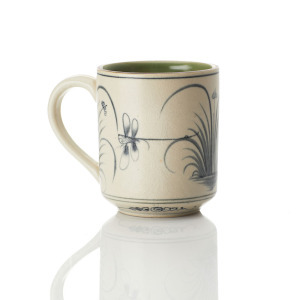 great size
Mar 13, 2023 | Posted By Jane Bahr from Lanexa, VA United States
Dragonfly love
Jan 5, 2019 | Posted By Kelly from Houston, TX United States
I have always loved this dragonfly design--especially when it is paired with this celadon glaze. What I have discovered very recently however is that the celadon can be "acid etched" when drinking heated lemon water from this mug. The green interior has taken on a dusty appearance just below the rim all the way to the bottom, and the surface feels slightly roughened in the same area. So! It seems best to keep the acid content of your warm beverages to a minimum with this glaze (which is already more of a lovely satin finish as compared to a high gloss).
Beautiful
May 16, 2018 | Posted By Pat from Lake Monticello, VA United States
I owned a similar mug for 5+ years and unfortunately broke it. I ordered 2 of these mugs and love them!
perfect
Jan 8, 2018 | Posted By Sara from Moscow, ID United States
Beautiful mug. Amazing artwork and colors. Very happy!