View Product Reviews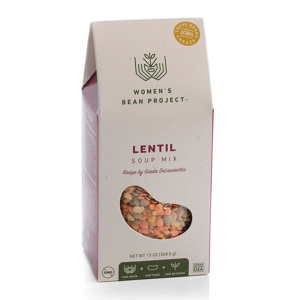 Yummy!
Oct 5, 2023 | Posted By Janet Kolmer Grommet from Glen Cove, NY United States
Yummy (vegetarian) lentil soup to accompany move into fall. Excellent spice packet makes all the difference.
GREAT SOUP
Feb 24, 2022 | Posted By Sharon from La Crosse, WI United States
Easy and delicious. I reordered 3 more packages.
Delicious Lentil Soup
Dec 17, 2021 | Posted By M from Sandy Springs, GA United States
I gave this as a gift to my sister, who said that it was delicious.
Lentil Soup Mix
Mar 9, 2021 | Posted By Barbara Bair from Lexington, MA United States
I've had this and the other Women's Beans Project soups many times over the years and enjoy not only eating them -nourishing and easy to make- but creating my own recipes to savor during the winter. I'm grateful that something so good for me can help someone improve their own life.
Delish!!!
Feb 3, 2021 | Posted By Renee Weitzner from Washington, DC United States
This soup is fabulous! I added broth and a wide variety of vegetables from onions to butternut squash.... superb!
Lentil Soup
May 23, 2020 | Posted By Charlie from Coweta, OK United States
Lentil soup
Mar 12, 2020 | Posted By Deborah Bee from Palm Bay, FL United States
I got this as a part of a b'day gift for a friend, and I got a package for myself. Absolutely delicious!
Thanks Veronica and Michelle
Dec 20, 2019 | Posted By Vincen from St-Calixte, QC Canada
Healthy soups easy to prepare as vegan meals. It's nice to know the name of the people that package it. The spices melanges are really fresh and well selected.
Good Soup
Feb 8, 2019 | Posted By Marianne Montero from Bronx, NY United States
I have ordered The Women's Bean Project Soup Mixes quite a few times in the past few years. I think the lentil is my favorite because I love lentils. I like the other soups as well. I recommend them.
Soup Mix
Jul 16, 2018 | Posted By Susan from Woodstock, MD United States
Great service and great product!
Great soup!
Jan 13, 2018 | Posted By Irene from Cincinnati, OH United States
I finally made this soup last night and I loved it!
Great, easy soup!
Dec 10, 2017 | Posted By Maureen from Naknek, AK United States
I can highly recommend the Women's Bean Project soups and other food products. I've ordered them for years and love the soups especially in the winter. I'm so glad to be able to get them from SERRV since they don't ship to Alaska anymore.