View Product Reviews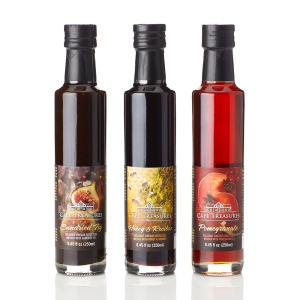 Yummy vinegar reductions!
Jul 28, 2022 | Posted By Nancy Deines from Sheridan, WY United States
I use the Fig vinegar reduction on my tossed salad. It's just right, even without oil.
Versatile and Delicious
Jul 23, 2021 | Posted By Andee from Nashville, TN United States
I am on my second round of these fabulous vinegar reductions. I use them in vinaigrettes, sauces, collard greens, and anything that needs a little flavor brightness. Well made and affordable!
Delicious!
Jul 20, 2020 | Posted By Maribeth Conard from MADISON, WI United States
I ordered the vinegar to use on salads and the flavor is full, sweet, and can be used alone as a dressing. We also used some to cook with and it was excellent. As a SERRV employee, I hadn't tried our vinegar before. This was so much better than anything I can find in the grocery store. Delicious.
Love these vinegars!
Aug 5, 2018 | Posted By Teri from Eureka, IL United States
I have been using these in my cooking and have given them as gifts. The flavors are unique and intense. They enhance many dishes and are highly recommended.
Vinegar Reductions
Aug 4, 2018 | Posted By Patricia from Alma, MI United States
I purchased these for Christmas gifts so I cannot comment on how great they are but I have no doubt! Very nicely presented. Very happy with them - I think they are a good value.
Vinegar trio
Nov 9, 2017 | Posted By Dorie from san jose, CA United States
I love the variety of these vinegars. I was going to use them as gifts but I will need to hang on to a few for myself!
yum
Sep 20, 2017 | Posted By Anita from OLYMPIA, WA United States
This is a repeat purchase because it's so good.