View Product Reviews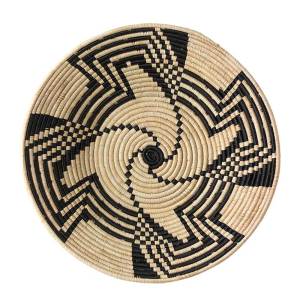 Beautifully Made!!
Jun 13, 2023 | Posted By Susan Randall Kepner from York, ME United States
This basket is so beautiful and well made! Have had many comments on it. I currently have it hanging on the wall with other African items.
Black Swirl Basket
Mar 27, 2023 | Posted By M. D. Anderson from Gause, TX United States
This large basket/bowl is beautifully crafted and is exactly as shown in the catalog. I love it!
Excellent Work
Jul 12, 2022 | Posted By Judy C Seefeldt from Stillwater , OK United States
Added to my wall of baskets, I love the selection. Each of my reviews will basically sound the same...the work is excellent, the designs are artistic, and the quality is sturdy. Enjoy them as I have.
Beautiful!
Jan 3, 2022 | Posted By Betty Heaton from Bridgeville, CA United States
Received this beautiful basket today. The crafting and handwork is so well done, I love it!
Beautiful Crafted Basket
May 21, 2021 | Posted By Carol Lee from Tampa, FL United States
I love the design and that it is a simple black and white basket. Serrv has a great selection of beautiful baskets.
blackswirl basket
Apr 6, 2021 | Posted By john lauricella from chalfont, PA United States
Quality!
Aug 24, 2020 | Posted By Ruthanne Edwards from Charlevoix , MI United States
Beautiful basket, well crafted by wonderful Ugandan women I am happy to help support!