View Product Reviews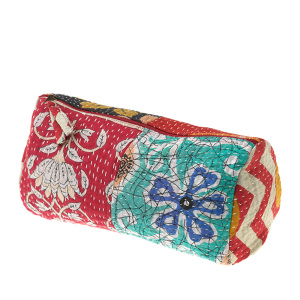 Just what I needed!
Aug 22, 2022 | Posted By Liz from Bellingham, WA United States
Finally I have a toiletries travel bag that is long enough for my toothbrush and roomy enough for my other needs -- deodorant, toothpaste, floss, hair clips, shower cap, razor, etc. The bag is soft and flexible, which makes it easier to fit into the suitcase. And the plastic lining makes it easy to wipe clean. The outside is pretty to look at. Wish I had it years ago.
Sturdy and Roomy enough for travel needs
Apr 8, 2022 | Posted By Liz from Bellingham, WA United States
I needed a zipped bag with a plastc lining that was roomy enough for all my travel needs, and this bag does the job. It is long enough for my toothbrush holder and holds everything I take to the bathroom when I travel. It is pretty and the lining has been waterproof so far. It makes efficient use of the space in my suitcase as well.
Great Bag
Dec 4, 2020 | Posted By Carolyn Morgan from San Antonio, TX United States
These bags are awesome! They are both beautiful and well made. Perfect for so many uses!
Love this for travel.
May 3, 2020 | Posted By Susan Shopland from Indiana, PA United States
Well made, attractive, good size for all my toiletries when I travel.
Pretty Bag with Many Uses
Dec 21, 2019 | Posted By Dianne from ALBUQUERQUE, NM United States
Lovely bright colors with attractive stitching. Inside lining appears to be waterproof. Zipper glides easily when opening and closing. This bag is large enough to hold many personal items when traveling. Very pleased with my purchase.
Kantha Toiletries Bag
Jul 25, 2019 | Posted By Dana L. Wilner from Vallejo, CA United States
Roomy, well made bag, lively, pretty fabrics, stitching adds some texture and strength and the inside lining is water-proof or resistant. One possible improvement could be to make the polyethylene lining removable, rather than sewn into the seams. Good size for travel, larger tote or backpack, etc., might be a bit large for a regular sized purse.