View Product Reviews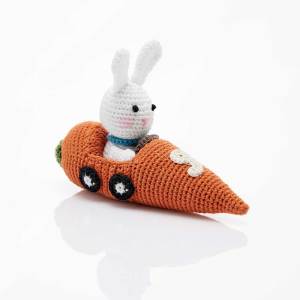 Easter gifts
Apr 26, 2022 | Posted By George Flores from Phoenix, AZ United States
Our Granddaughter loves these Easter gifts!
Fun Gancho
Apr 12, 2022 | Posted By Julie from Sioux City, IA United States
Beautifully made. Gancho is Spanish for crochet, and Gancho brings smiles.
Very pleased !
Apr 13, 2021 | Posted By Donna Pezik from Pittstown, NJ United States
The little bunny in his racing car is so very cute and beautifully made. Thank you so much for sharing with us your great talent.
Well made and adorable
Apr 7, 2021 | Posted By Linda Laddis from Shrewsbury, MA United States
wonderful toy for little hands. beautifully made!
race carrot
Apr 5, 2021 | Posted By Jane B Middlesworth from Butte, MT United States
thought might be too young for 5year old birthday. but better than OK
Cute bunny car!
Mar 27, 2021 | Posted By Rachel Siegenthaler from Annapolis, MD United States
This little bunny in his car is so adorable! I love it! The bunny can be removed from the car and both are great quality.
Cute
Mar 18, 2021 | Posted By Laura Henson from San Diego, CA United States
This item is very creative and amazingly made. It is great in an Easter basket.
makes me happy!
Mar 6, 2021 | Posted By Danielle from Madison, WI United States
I can't wait to put this in my great-granddaughter's Easter basket!
Cute Racing Bunny!
Apr 25, 2020 | Posted By Barbara Manning from Delmar, NY United States
This is really cute and it is well-made. My grandson loves it because he can take "bunny" out and in the carrot car.
Best Bunny
Apr 2, 2020 | Posted By Babs from Tacoma, WA United States
Bunny in a race car carrot? It's the best! And the work is beautiful - not a stitch out of place.
Crocheted Racer Bunny
Mar 25, 2018 | Posted By Joan from ANNANDALE, VA United States
The Serrv crochet racer bunny is a fantastic little Easter creature, especially when combined with a blue Easter basket with orange trim! It is perfect for my young grandson and of course, the little girl crocheted Easter bunny holding a carrot and wearing a pretty striped sweater is equally delightful for his twin sister! I couldn't be more satisfied with my Easter purchases from Serrv!
bunny on a carrot
Mar 23, 2018 | Posted By gerald from newton, NJ United States
I LOVE IT WELL MADE. IT WAS WHAT I EXPECTED. I LIKE ANYTHING FROM VIETNAM TO PUT WITH MY COLLECTION. I ALWAYS CHECK TO SEE WHAT'S MADE IN VIETNAM.
My son will love it!
Mar 16, 2018 | Posted By Kate from Holly Springs , NC United States
Beautifully made race car and bunny!