View Product Reviews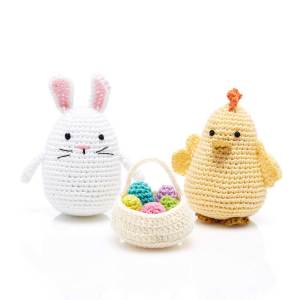 Easter bunny and chick
Apr 17, 2023 | Posted By Susan Skordos from Ogden, UT United States
These are adorable and well-made.
Excelente
Mar 23, 2023 | Posted By Lynette Borrero from Guaynabo, PR United States
Adorable Easter friends
Apr 14, 2022 | Posted By Mary from Bethesda, MD United States
I love the adorable bunny, chick and basket. They are well made and even nicer than pictured.
Adorable Easter
Mar 21, 2022 | Posted By Carole Marani from Key West, FL United States
Just love them! Looking forward to giving them as gifts for Easter!
review of products
Mar 17, 2022 | Posted By Elaine Ruth Dodge from Tacoma, WA United States
The crocheted Easter items are perfect for a basket I'm making up for my daughter.
Adorable!
Mar 26, 2021 | Posted By Lynn Donnelly from Schenectady, NY United States
The workmanship on these little figures is amazing. I have them on my windowsill over my kitchen sink and I smile every time I see them. A very special addition to my Easter decorations. Highly recommend.
Great gift for my grandson
Mar 24, 2021 | Posted By Laura Bradshaw from Houston, TX United States
After I had you send this gift, my son Skyped and i watched my 4yr old grandson building a bridge out of random cardboard pieces. I noticed he checked underneath frequently. In a while he pulled out the chickie "Blossom" and the bunny "Hippity-Hop". They may have been serving as building inspectors. Soon the basket came out. Small, soft, colorful, attractive, perfect.
JUST ADORABLE!
Mar 22, 2021 | Posted By Nikki Isakson from Lindstrom, MN United States
These are SO cute and beautifully made! Very nicely priced. I hope you have a little ducky next year!!
Adorable crocheted Easter
Mar 22, 2020 | Posted By Patrcia from Seven Hills, OH United States
This crocheted Easter set is very adorable! So well made
Cute and well made.
Jan 13, 2020 | Posted By Lisa Anderson from Orem, UT United States
So perfectly made and just the right size for the basket. Thank you!
Adorable!
Mar 26, 2019 | Posted By Denise Goodman from Warriors Mark, PA United States
This bunny, chick, and basket set is the cutest thing! Tiny, well-made, and the epitome of springtime! Thank you to Serrv and to the artisans!
Adorable
Mar 16, 2018 | Posted By Kate from Holly Springs , NC United States
I bought this set for an Easter basket. It is so cute, I would buy it again. The toys are well-made with beautiful details.
too cute
Mar 16, 2018 | Posted By Virginia from Reardan, WA United States
These little chicks make adorable decorations. The crocheting is well-done, but I don't think they are meant for everyday play.