View Product Reviews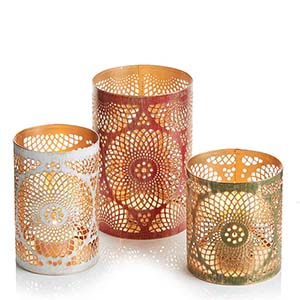 lovely set
Dec 21, 2022 | Posted By CARLA MONTAGNO from COARSEGOLD, CA United States
we buy as gifts. people love them
Lovely ornaments
Dec 9, 2022 | Posted By Marsha Long from Dunn, NC United States
I love love love this set of 3 red beautifully made tree ornaments. They are each unique and fun on our Christmas Tree. Thanks Serrv!
Lovely patterns by candlelight
Nov 1, 2022 | Posted By Connie from Berkeley, CA United States
I love my Mandala Lanterns set! I have them placed through-out the house. For the holidays or for any time of year, these beautiful & safe candle-holders are a wonderful addition to my home! Thank you for a delightful product!
Beautiful!!
Dec 27, 2021 | Posted By Mary Lou Cox from Monterey, VA United States
These beautiful candle holders have truly brightened our Christmas season. We ordered more for a gift!
OK
Dec 16, 2021 | Posted By Pamela from Fisherville, KY United States
The design is great, the paint job not so much. Sturdy and stackable for easy storage.
Mandala Candle Lanterns
Nov 30, 2021 | Posted By Barbara from Plainsboro , NJ United States
These will be a gift. I put battery operated candles and they look very pretty!
even better than the pic!
Feb 8, 2021 | Posted By Ms. Kane Clawson from Falls Village, CT United States
These are really wonderful light spreaders! I bought another set for Christmas and then when this design went on sale I bought two more as gifts as they are just gorgeous with candles in them, throwing their beautiful patterns onto what ever surface you have them on.... Nice quality too.
A VT guy
Jan 25, 2021 | Posted By Donald Ballas from Colchester, VT United States
These Mandala candle holders add just the right amount of shading and decor to otherwise just seeing the candle. very nice addition.
Wonderful candle holders
Dec 4, 2018 | Posted By FRED H WIMAN from Lewisburg, WV United States
We are very pleased with these candle holders. They are very decorative and well made.