View Product Reviews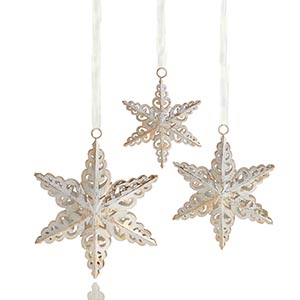 Beautiful!
Nov 29, 2022 | Posted By Theresa Nixdorf from Islip Terrace, NY United States
These are way more beautiful than the picture of them appears. I loved them in the picture and LOVE them more in my windows. I had ordered 5 sets and had an issue with the 5th box so I called the SERRV customer service and the representative was very helpful and took care of everything immediately. I couldn't be happier with the service and the product.
wonderfully perfect
Dec 24, 2021 | Posted By Charlene Newman from AU SABLE FORKS, NY United States
like all things from India, these are made with precise detail and are really lovely.
snowflakes
Nov 25, 2020 | Posted By Christine Personett from JUNEAU, AK United States
Very lovely to display in my windows. This is a quality product
Lovely
Nov 20, 2020 | Posted By Lisa F Dove from Valrico, FL United States
Pretty! Good quality and just what I was looking for.
Pretty & Toddler Resistant
Sep 24, 2019 | Posted By Colleen Crowley from Reno, NV United States
Pretty star sets that can tolerate being knocked off a tree by a toddler.
Antique White Snowflake Ornaments
Dec 8, 2018 | Posted By Lisa from Wareham, MA United States
They are beautiful!!! Perfect!!! I could not be happier with these!!!