View Product Reviews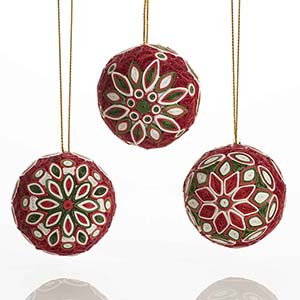 What workmanship!
Jan 28, 2021 | Posted By Nancy Farrand from FREEPORT, ME United States
These ornaments are perfection. I can hardly wait to give them as gifts and see one again next Christmas.
Exquisite
Nov 15, 2020 | Posted By Becky Cluxton from Martinsville, OH United States
These quilled balls are not large which may make their exquisite workmanship shine all the more. Looking at them gives me joy.
Quilled
Dec 26, 2019 | Posted By Diane Haubrich from Highland Park, IL United States
Beautifully detailed and executed. Was everything I expected. Would order again.
Absolutely gorgeous
Nov 22, 2019 | Posted By Maria from Geneva, NY United States
These are gorgeous. I highly recommend them.
Beautiful ornaments!
Nov 7, 2019 | Posted By Liz Nevitt from Pickett, WI United States
These are beautiful ornaments. Well-made and at a great price!