View Product Reviews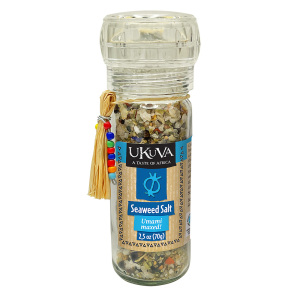 No Ordinary Salt
Jul 23, 2022 | Posted By Felice Willat from Santa Barbara, CA United States
Ever since I bought this salt at a Folk Art event in Santa Barbara many years ago, I use this salt in 90% of my cooking. The additional ingredients are subtle but flavorful, and this salt makes everything taste better! Same goes for the garlic pepper!
love it
Jun 12, 2022 | Posted By Susan A Parkin from Cambridge Springs, PA United States
use instead of regular salt
Delightful!
Jun 22, 2021 | Posted By Jen from Goshen, IN United States
I purchased this at my local Ten Thousand Villages store, and it has quickly become my favorite all-purpose seasoning for soups, burgers, fish, and more. And, the little blue cornflowers make it pretty.
Tasty
Dec 30, 2020 | Posted By Kathleen Varnam from Bishop, CA United States
This seasoning is very tasty and can be used on any dish!
The BEST
Dec 17, 2020 | Posted By Rhonda from Boone, IA United States
This is FANTASTIC! I have purchased again and again. I've also added this to several gift baskets. Everyone loves it.
Favorite
Dec 9, 2020 | Posted By Theresa Rawls from Missouri City, TX United States
This is a favorite seasoning of my mother-in-law. she uses it on all her roasted vegetables. she asked for it for Christmas as she is running out. My mother-in-law is particular about her spice blends, so it must be really good.
Try it on eggs
Nov 11, 2020 | Posted By Kevin from Philadelphia, PA United States
This is our favorite seasoned salt. We use it a lot on fried eggs.
So Much Flavor
Sep 19, 2020 | Posted By Barbara from Brooklyn, NY United States
I watch my salt intake, so I wanted something to add salt & flavor to my cooking. This is perefect! I measure & add this salt to all my dishes. It adds to the taste, it never overwhelms.
Love this salt blend!
Sep 14, 2020 | Posted By Sandra M Shaner from Wood River, IL United States
I've learned that changing the salt and pepper can make a massive improvement in a dish. This is my latest salt purchase which sits on the table with several different pepper grinders waiting to be used as a finishing salt. The difference between this salt and my regular finishing table salt really wakes up my taste buds. Such a small thing to make such a big difference. Thanks!
Spice review - Sea weed salt
Jul 3, 2020 | Posted By renee Alexander from Washington, DC United States
Good morning, I purchased my first bottle of Moroccan Harissa at the Smithsonian Museum of African Art in D.C and absolutely loved this spice. We have been under quarantine for several months and managed to use the entire bottle of the Harissa, it has become the spice of choice for many of our dishes. We have sampled all of the new spices on fresh tomatoes from the Farmers Market, fresh mozzarella, rice, pasta, vegetables and salads, and they have become our way of escaping the confines of our DC kitchen to travel to a new destination, even though it is only through food, it has brought my family to the table and we have enjoyed the culinary journey. I am particularly fond of the Khoisan Seaweed Salt Blend and the Zanzibar Island Spice. I also purchased a couple of bottles to give as gifts to my friends who are starving for new culinary delights. All the best,
Best salt!
Feb 10, 2020 | Posted By Samantha JONES from Newnan, GA United States
So delicious we use this on popcorn and all of our dinner dishes.
Im in love with this salt!
Nov 11, 2019 | Posted By Carla from Roanoke, VA United States
I use this daily as my regular salt in all my cooking. This is my 3rd jar and the flavor is wonderful.
Interesting Flair
Jul 13, 2019 | Posted By KATY ISCHIA from CUPERTINO, CA United States
This combination of items really caught my attention. Just a couple grinds offers a colorful, complex perk! It has been versatile with milder sodium. Another winner and a great little gift for anybody.