View Product Reviews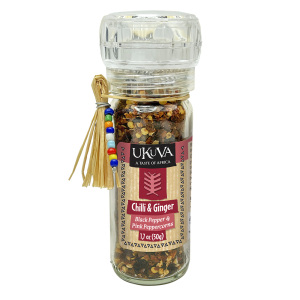 Amazing Spices
Dec 7, 2023 | Posted By Sandra Jowers from Washington, DC United States
I love spices that have exquisite combinations. This Chilli and Ginger Pepper is wonderful. I am a fan and a steady customer.
Nice Addition to Seasonings
Jul 11, 2021 | Posted By Rebecca Jo Russow from La Grange Park, IL United States
I searched for the salt a friend introduced to me and then decided I needed a pepper. This is a great pepper - not too hot (my husband can't take the heat). Great addition for any cook who likes to experiment with flavors.
Great
Jan 16, 2021 | Posted By Jenny Bourne from Pendleton, SC United States
Excellent taste; attractive packaging
Awesome product
Nov 19, 2020 | Posted By Beth Haveman from Grayslake, IL United States
This should be a staple on your table. We use it daily instead of a pepper grinder. I buy several at a time and give them as a hostess gift or gift to my young adult children in their Christmas stockings. Try it- you'll love it.
Tasty spice mixture from South Africa
Oct 14, 2019 | Posted By M. from Sandy Springs, GA United States
My friend loved this spice mixture from South Africa.
Adds flavor to nearly everything!
Aug 8, 2019 | Posted By AnnieLaurie Burke from Allyn, WA United States
I love this line of African spices. Their flavor combos are delicious, and they are beautifully presented in re-usable glass containers. I use these seasonings on everything from salads to soups to grilled meat and veggies. And I love knowing that this enterprise is helping people to become self-sufficient.
Spice
Mar 3, 2019 | Posted By Beverly Cronk from NEW CASTLE, IN United States
Really liked the flavor even though it was a little "spicy" My husband is not a fan of too much "heat" so i used it sparingly. i liked the seasoning but had to use it sparingly because my husband is not big on a lot of heat.
Excellent Gift
Dec 29, 2018 | Posted By Amy Leonard from Cullman, AL United States
I included the chili pepper in a gift basket for the holiday and it was a hit!