View Product Reviews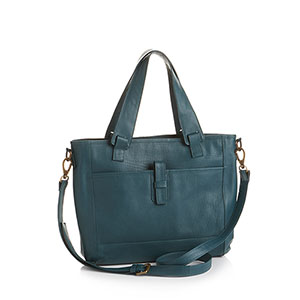 Beautiful green-blue bag
Jul 15, 2022 | Posted By Beth from San Diego, CA United States
So glad I bought this bag. The color is more green than blue. The size of the purse and the number of pockets work well for me. No regrets.
Excellent bag
Apr 4, 2022 | Posted By Martha E Hardesty from Roseville, MN United States
I've owned this bag for several years now, and use it more than any I own. The leather is mid-weight: sturdy but not bulky, and the dye is even. Construction is careful in all details. Pockets & zippers are well-distributed for about anything you can imagine. It's large enough for a small notebook computer or file folders. And to find such a beautiful shade of teal is as good as it gets!
Elegant and functional
Jan 27, 2022 | Posted By Laura from Roslindale, MA United States
I have been looking for a bag in which I can carry my laptop, but that does not look too much like a briefcase. This is it! It serves both business and personal functions quite nicely. The carftsmanship is superb. Others have written about its useful features. I'll just add that the interior lining is a lovely black and white print of poppies -- attractive, and light enough to be able to see what's in there. Super happy with my purchase. It will last for many years, I'm sure.
Teal All-for-One Leather Bag
Feb 27, 2021 | Posted By Barbara Drew from Newtown , PA United States
I really love this bag- it is a gorgeous color and is of very good quality. It is spacious with appropriate and convenient pockets on the outside and zipper compartments on the inside. I especially like the access to sections on the exterior, which I find convenient for keys and cell phone. Given its size, it is not especially heavy.
Love the color, needs more inside pockets, needs loop for cross-body strap, needs water bottle pocket on outside.
Aug 6, 2020 | Posted By Carol VanHouten from Sheridan, OR United States
I've been admiring this purse for months, attracted by its luscious color. I'm very glad the lining isn't black, but I think a better color choice than white and red could be found to go with teal. I was planning to use primarily the cross-body strap, but the way the holes are punched to accept the buckle means that there's a long strap "tail" with no loop to hold it down. I switched the strap so that the buckle is in the back and tied the long tail in a loopy knot. It will be very uncomfortable if I ever sit back against it. Inside there is one pocket that looks like it's for a cell phone, and another pretty small pocket with a zipper. It would be nice to have a key fob and maybe some loops to hold pens, and also more pockets generally. I really wish it had at least one pocket on the end outside to hold a water bottle. But, overall, it was the color that called to me, and I do love the color and feel of the purse. I can see why some people comment on the weight, but hey, it's very nice leather!
Thank you so much for taking the time to share this specific, helpful feedback! We've shared this with our product development team.
Almost Perfect
Apr 16, 2020 | Posted By Randi E. Goodman from Albuquerque, NM United States
The bag is truly stunning. Made beautifully, and the color is gorgeous. However, it is a full 2" thinner than described in the catalog and online. The dimensions stated were 11" x 15" x 4.5". My bag is 11" x 15" x 2.5". I could really use the extra 2" in depth.
Thank you for letting us know, and our apologies. We've checked our inventory and updated the description on our website.
Love this bag
Mar 8, 2020 | Posted By Liz from Bellingham, WA United States
This bag is beautiful and functional. It has a detachable cross body strap, useful when I go into the city. It is large enough to hold some of my purchases. It easily held a bottle of wine! There are zipper pockets and the outside pocket is ample, for my phone and hand sanitizer. The bag is beautiful. I plan to take it on airplanes as my personal item; it will hold a good collection of my travel needs.
May Be the Perfect Bag!
Feb 22, 2020 | Posted By Jill from Fountain Hills, AZ United States
I think someone made this just for me. The leather is soft and supple, the straps are wide and comfortable (I can use the longer strap if necessary), there are enough exterior pockets -- both zipped and more open -- to hold keys, mobile, etc. On the interior, the fabric is NOT black and there are more pockets so small essentials don't get lost on the bottom. It's big enough for a standard laptop or easily fits a tablet along with wallet, etc. And since I wear a lot of greens/blues/grey, the color is perfect, and the bag looks great on the shoulder. I may never have to change bags until this one falls apart, hopefully far in the future. Thank you!
All in one bag
Nov 24, 2019 | Posted By Lynette Robe from Los Angeles, CA United States
This bag is what I have been looking for! It is roomy, but not too big and it is light weight. I wanted a bag with handles as well as a crossbody strap. The crossbody strap is pretty long, and I may have it shortened, but a taller person would probably appreciate the length. I like the zippered pocket in the inside and one on the outside too. The turquoise color is very pretty too.
Color to die for!
Nov 24, 2019 | Posted By Diane Morgan from Garner, NC United States
What attracted me to this bag was the color, and when I got to see it in person, it didn't disappoint. I bought this for my daughter as a Christmas present. She likes large bags and I'm certain she will love the color. The quality of workmanship is excellent. It doesn't have a ton of sections, which appeals to me. The removable strap will be appreciated by my daughter as she prefers hand-held bags.
Beautiful handbag
May 11, 2019 | Posted By Sherry Johnston from Rock Hill, SC United States
Handmade and beautifully done. Love the color. That's what attracted me to it.
Heavy Bag
Apr 25, 2019 | Posted By New User from Los Angeles, CA United States
Bag described accurately and good color but extremely heavy. By the time it is filled it is almost too heavy to carry. Wished it weighed about half as much. That is the reason for lower rating. I am sure it is sturdier because of the weight but my use will be limited.
We are sorry it is too heavy for your regular use. We weighed one in our warehouse and it is 2.2lbs.