View Product Reviews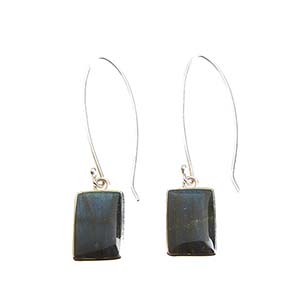 Gorgeous Earrings!
Jul 14, 2023 | Posted By Martha from Durham, NC United States
I'm considering buying more pairs to use as Christmas gifts.
Above and Beyond
Mar 31, 2023 | Posted By Holly Hearon from Quilcene, WA United States
I'm delighted with the earrings! The shades of laprodite vary and initially I was sent (another beautiful) pair but with much lighter hues. SERRV graciously exchanged them and sent me exactly what I was hoping for. They are gorgeous!
STUNNING !!
Dec 15, 2022 | Posted By Michaelene Balinovic from Abingdon, MD United States
The picture of these earrings doesn't do them justice. Much prettier than I expected. They are absolutely BEAUTIFUL !! Just the right size and weight. I purchased them for my sister and she LOVES them. The colors in the labradorite sparkle when the light hits them. PERFECT.
very dark
Feb 10, 2022 | Posted By Jen from Mt Airy, MD United States
The earrings were very dark. You could not see any of the beautiful colors shimmer as you normally would in labradorite because of the way the stones were set.
Stylish & Stunning
Dec 29, 2020 | Posted By Mary G from Sammamish, WA United States
These earrings are so exceptional that as soon as I received them, I re-ordered a pair to give my niece, who was equally thrilled with them! The labradorite stones are a good size ( about 8 x 14 mm), well-matched, and highly polished to highlight their lovely iridescent striations and the silverwork setting is equally high quality. Compares well with jewelry I've purchased in galleries.
even better than the pic!
Nov 23, 2020 | Posted By Ms. Kane Clawson from Falls Village, CT United States
I am always pleasantly surprised with the jewelry from Serrv and these are no exception! Labradorite can be quite dark without alot of light/color in them if poor quality but these are gorgeous! And not too heavy ;-) Also, I have always thought you needed light to come through from behind the stone, but these have a solid metal back but it doesn't matter. AND, If I end up deciding that the length of the wire is too much, I can always bend them to what I want and snip the wire. Really a great pair of earrings for the price ;-))))