View Product Reviews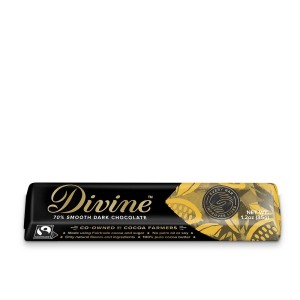 chocolate
Nov 4, 2023 | Posted By john mercier from Norwich, CT United States
Small Dark Chocolate Bars
Dec 14, 2021 | Posted By Ruth C Schreiner from Franklin, TN United States
I buy these every year for members of our congregation....they always look on the Fair Trade Display and buy.
Checking back - Nope, still 5 pieces
May 8, 2021 | Posted By Pamela Metcalf from Fremont, CA United States
Bought these for years and years when there were 6 pieces in a bar; now there are just 5, and the bars are smaller. Like the other reviewer, we love, love, loved the chocolate and enjoyed splitting one bar into equal parts and sharing. Trying to split a 5-piece bar is too much mess and never even. Please fix this. I'll probably check back again in a couple more years. Rating is for the chocolate, not the packaging design.
Great
May 3, 2021 | Posted By Linda Hines from PRAIRIE DU SAC, WI United States
very popular, always great quality
Yummy Dark Chocolate!
Feb 12, 2021 | Posted By Frances R. Riddle from Dover, DE United States
We are addicted to this dark chocolate in any form. Thank you for making it!
just the right size & sweetness
Dec 7, 2020 | Posted By Mari Oxentenko from Scottsdale, AZ United States
This dark chocolate was just the right size & sweetness, creamy not chalky.
Love These!
Oct 31, 2020 | Posted By ken johnson from Santa Barbara, CA United States
Wife and I both love these chocolate bars - especially she, as they can be enjoyed by a diabetic, which she is.
Chocolate!!!!!
Apr 24, 2020 | Posted By Betsy Goldberg from New York, NY United States
The Divine Chocolate from Ghana is THE BEST. !! While 85% is my preferred, ( but out of stock), the 70% bar is perfect! not too big, a daily treat with proper limit in size, and absolutely delicious and satisfying!
Always a Favorite
Dec 10, 2019 | Posted By Cynthia Werstler from Boyertown, PA United States
We run an "Alternative Market" in December. The candy bars are always a favorite among the SERRV items we offer.
Best chocolate ever!
Dec 3, 2019 | Posted By Kathleen Burk from Ebensburg , PA United States
I love this stuff so much I order it by the case. The gift packages are always a hit with friends, too.
Great chocolate
Dec 2, 2019 | Posted By Martha Freimuth from Manchester, CT United States
I am disappointed that the size of these little bars has been reduced. There used to be 6 squares per bar (easy to split), and now there are only 5 squares.