View Product Reviews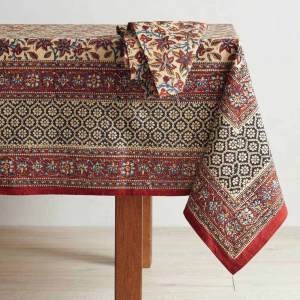 Gorgeous Tablecloth!
Feb 8, 2023 | Posted By Terri Moon from Colorado Springs, CO United States
I admired this tablecloth for a while and waited for it to go on sale, but now that I have it gracing my table I realize that it is worth the full price. It is the perfect size for my 6-person table, falling gracefully just to the top of the chair seats. My dining room has been completely transformed and looks so beautiful. The fabric is sturdy, not overly thin, and the pattern is interesting without being busy. It goes perfectly with the indigo cloth napkins that I bought from Serrv at the same time. This is the perfect all-season tablecloth!
Beautiful Pattern and Quality
Nov 18, 2021 | Posted By Janice Moreland from Marysville, OH United States
I love this tablecloth and may just keep it on my table year round. The depth of color is gorgeous; the fabric is woven straight and has a "just right" weight that should wear well. I look forward to buying other items in this same pattern.
Delighted customer in Utah
Jan 12, 2019 | Posted By Ruth Jennings from Sandy , UT United States
Loved it! It got a thumbs up from the whole family, which is quite hard to do! I had a tablecloth a bit like this one which I bought years ago from Crate and Barrel, but it is now rather faded, and I have been looking for a while for something similar, but it has been hard to find anything like it. I was so pleased to receive Serrv's catalog and see this tablecloth. The colors and pattern are as shown, and it looks beautiful on my dinning table!