View Product Reviews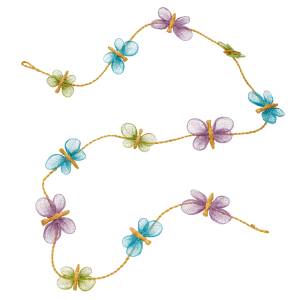 Grandma excited
Apr 30, 2022 | Posted By Lori McKenzie from Brinx, NY United States
Love the butterfly garland for my granddaughter - also a beautiful butterfly! So lovely and the best of gifts!
Abaca Butterfly Garland
Apr 10, 2021 | Posted By Martha Miller from North Manchester, IN United States
I was slightly disappointed in these. They look so delicate and beautiful and I had visions of draping them in the spirit of spring! But in reality they are quite stiff and will not drape. I did successfully wind one of them around a wreath with most of the butterflies right side up! Also, I may consider cutting off the butterflies to use on gift packages with a ribbon bow..
Butterfly Chain
Dec 21, 2020 | Posted By Judi from Chicopee , MA United States
I love these butterflies. They're delicately beautiful. Just as described by SERRV.
Great to fair
Oct 23, 2020 | Posted By Lynn from Houston , TX United States
I purchased these garlands for gifts for several people. Eall recipients are various ages, from tweens to adults. All of them are butterfly enthusiasts. With this being said the garlands were terrific for these folks. The quality is not great and the appearance is not up to the usual stands of this company..
Love it
Oct 6, 2020 | Posted By Constance Wiggins from Bronx, NY United States
I bought 2 to wrap my Peace wreath. I'm glad to see it is back in stock. It is lovely to look at.
Petite butterflies
Mar 28, 2020 | Posted By Heather Beadle from Boulder, CO United States
I bought the garland for a wall - I really need 3 garlands to make an impact - butterflies are tiny but adorable . Looks very feminine! Can see many uses for the garland but order more than one ! I'm giving 5 stars .