View Product Reviews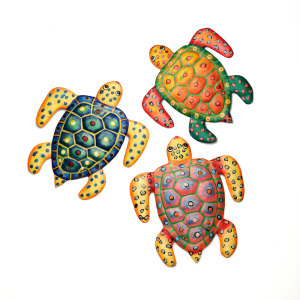 I love these little turtles.
Mar 6, 2023 | Posted By Norma R Mills from Katy, TX United States
Sea turtles are something I like very much. I plan to hang them outside near our pool. These are cute and just the right size.
Very cute
Oct 29, 2021 | Posted By M. A. Baldenweck from South Portland, ME United States
These are darling and really brighten up the room. However, each one has a single hook so they must hang "heads up". SUGGESTION: Add a second and third hook so that they can be hung sideways.
Very Colorful and Whimsical
Sep 16, 2021 | Posted By Karen Kennedy from Asheville, NC United States
These turtles are great. My only "complaint" is that the colors of all three are very similar to each other.
Great sea turtles
Aug 26, 2020 | Posted By Barbara Swartzel from Pontiac, MI United States
This set was a gift. I loved the way it looked in the catalog and online, but they are even better when I see them. The recipient was delighted with them, and is proudly displaying them in her home. Service was fast and efficient!
Beautiful turtles
Jul 20, 2020 | Posted By Kay from Owensboro, KY United States
The painting is just so colorful and very well done. Looks great on my screened porch.
Exterior beauty
Jun 9, 2020 | Posted By Stacie Chandler from North Adams , MA United States
I have geckos and now turtles to decorate my home. Thanks
Colorful and just what I wanted
May 28, 2020 | Posted By Pam from Duluth , MN United States
I'm never disappointed when I order from the amazing artists in the SERRV community. Items are always exactly as they appear in the catalog and shipping is quite fast. I'm proud to display these little turtles on my 'she shed'.
Turtles
Apr 18, 2020 | Posted By Suellen Brahs from Phoenix, AZ United States
So colorful. I was afraid that they might be heavy but they are really light. They look great swimming on the blue wall in my bathroom.
Turtles
Jul 21, 2019 | Posted By Nancy from Portland, OR United States
The turtle are so beautiful and unique. Lovely colors, a real joy to look at. Thank you.
So bright and colorful!
May 17, 2019 | Posted By Debbie Garoutte from Grants Pass , OR United States
I love turtles! I have them all over my house, in one form or another. These turtles are gorgeous and so very colorful. They're beautiful hanging on my wall!
Perfect for Our Deck
May 15, 2019 | Posted By A.M. from PITTSBURGH, PA United States
This wall art looks great hanging on the lattice work around our deck.