View Product Reviews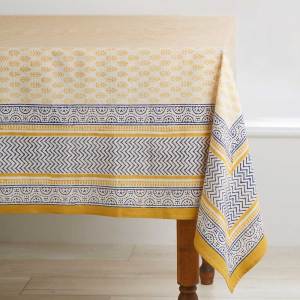 Beautiful Tablecloth
Apr 17, 2022 | Posted By LG from Cypress, TX United States
Beautiful pattern for the Spring and Summer seasons.
Perfect fit
Apr 23, 2019 | Posted By Tanya Kadi from Astoria, OR United States
We love the print, colors and weight of this tablecloth. It fits our table and decor perfectly. What a welcome sunny and cheerful addition to spring:-)
Mixed feeling for this table cloth ......
Apr 15, 2019 | Posted By Catherine from Springfield, VA United States
The colors and patterns are beautifully blocked.......love it! But, wished the material cotton fabric could be of higher quality! Felt thin and cheap...
A gift enthusiastically received
Apr 2, 2019 | Posted By ELENA KING & SCOTT THOMAS from Washington, DC United States
My niece saw my Serrv catalogue and requested this table cloth and napkins. She is delighted with them!