View Product Reviews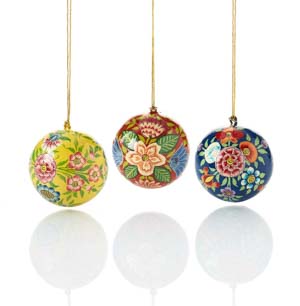 kashmiri ball ornaments
Jul 21, 2023 | Posted By Bernadette O'Connell from Cincinnati, OH United States
They are really beautiful. Since I order them for Christmas, I would prefer not to have the yellow but red, green and blue.
Beautiful designs and skilled painting!
Nov 7, 2022 | Posted By Ruth H. from Oakland, CA United States
The colors were a bit garish for my taste. Otherwise, beautiful!
Beautiful!
Dec 5, 2021 | Posted By Debbie from Westminster , MD United States
These are beautiful ornaments. Just the right size for hanging on the tree. Each design is pretty, delicate, and colorful.
More than Christmas ornaments
Jan 28, 2021 | Posted By Nancy Farrand from FREEPORT, ME United States
These are lovely and the colors, to me, say that they are to be used all year 'round.
A Happy Customer...
Dec 20, 2020 | Posted By Ann L Jordan from WARWICK, NY United States
The ornaments are lovely and arrived with no problems in time for Christmas.
Lovely!
Dec 16, 2020 | Posted By Diane L Lewis from San Juan Capistrano, CA United States
Very elegant. Not too big.
Beautiful
Oct 9, 2020 | Posted By Jean K. Spero from Columbus, OH United States
They won't break, the designs are lovely and the craftsmanship is excellent.
Gorgeous!
Dec 28, 2019 | Posted By Kristina M Church from BUFFALO, NY United States
I ordered these for a friend, but now I want a set for my own tree! They are absolutely prettier in person than in the photo. Also much larger than I was expecting! Beautifully handpainted. I couldn't be happier!