View Product Reviews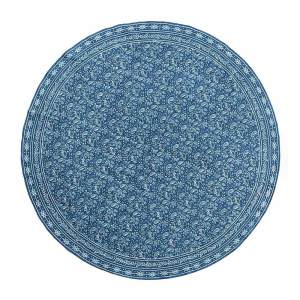 Absolutely Gorgeous
Jan 5, 2023 | Posted By Carina from Southbury, CT United States
This is a GORGEOUS table cloth. I want 2 more! The picture on the website doesn't do it justice. It's pricey, but I'm SO GLAD I splurged because it's 110% worth every dime !
lovely cloth
Nov 1, 2022 | Posted By Margaret LaMott Torrence from SWANNANOA, NC United States
We are delighted with this lovely cloth. I am grateful to the gifted artisans who produced it. I soaked it in a vinegar solution before washing (as suggested) and it laundered beautifully following that soak. No ironing required!
Indigo round tablecloth
Mar 17, 2022 | Posted By Carol from Tonawanda, NY United States
This is a lovely tablecloth with a very unique print. It's just the right size for my table and the fabric is substantial with a nice drape. I will look forward to other similar tablecloths in other colors.. A quality product.
Just Bought My Second One
Oct 11, 2021 | Posted By C Green from Los Gatos, CA United States
I love my indigo table cloth so much I just bought a second one to use while my first one is waiting to be washed! It fits my patio table perfectly and hardly shows spills. It does need to have the color set by washing with a cup of vinegar before being used, but that is easy. I enjoy the batik design and find the tablecloth quite practical for every day use.
LR
Mar 20, 2021 | Posted By Linda Rollin from Fresno, CA United States
I purchased a round tablecloth, placemats, and napkins, and am really happy with the look, quality, and price. The hand dyed blues are lovely. Thanks to everyone involved in the process of making these items.