View Product Reviews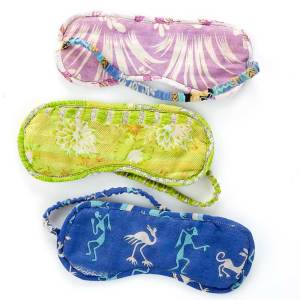 Sleep masks
Jul 5, 2022 | Posted By Sharon O'Neil from San Marcos, TX United States
I like the colors and the fit. They make good gifts as well as being good for me to use on a trip.
Fits Great!
Jul 1, 2021 | Posted By Sharon M Dodge from Sunset Beach, NC United States
Love the colors.! Fits perfect! Let's me sleep good at night. Especially during the full moon.
good sleep mask for small heads
Apr 14, 2021 | Posted By Robin E Brooks from Topsham, ME United States
My husband tried this on and the elastic was too tight. I am an adult and it just barely works for me.
Pretty and practical
Feb 17, 2021 | Posted By C from CLINTON, PA United States
comfortable, gentle on my skin
Sari Eye Mask
Jul 20, 2020 | Posted By Irene Viescas from TUSCUMBIA, AL United States
The eye masks are very well constructed, comfortable and very pretty.
A perfect night's sleep
May 18, 2020 | Posted By Kathy Partridge from Longmont, CO United States
These soft eye masks were just what I needed to allow a dark and peaceful sleep. They are well made, roomy, and comfortable
Pretty and Lightweight
May 16, 2020 | Posted By Janis Hashe from Richmond, CA United States
Bought one of these eye masks for myself and one for my sister. They are very pretty and lightweight. Right now, I'm using mine for shavasana in yoga, but plan to take it with me when travel is an option again.